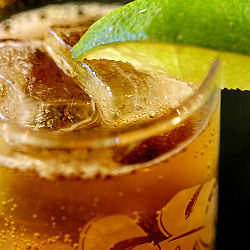 What is it about ginger-beer drinks that brings together unlikely bedfellows? The Moscow Mule, for example: Two guys sitting around a Hollywood bar, trying to come up with a novel way to slog their middlebrow vodka and their slow-moving sodapop, combine their bevvies in a novelty copper cup. Somehow, this unholy alliance actually resulted in a fabulous drink, one of the few vodka cocktails I'll actually admit to liking.
Likewise, here's our friend the Dark & Stormy. Or, I should say, the Dark n' Stormy®. Yup — some wily bastard had the gall to trademark this classic island refresher. Worse yet, the corporate overlords who own the name actually go around telling people that it's unlawful (!) to build your beverage with any other rum besides Gosling's Black Seal.
However you punctuate the damn thing, it's another product of oddball circumstance: During the late 1800s, the British Navy either bought or built (depending on who you ask) a ginger-beer plant on the island of Bermuda. Your guess is as good as mine as to what prompted Her Majesty's finest to get into the soft-drinks line, but there you have it. It didn't take long for the boys in blue to add their daily tot of rum to the spicy soda, and a beverage was born.
Now, I'm not entirely certain that the bartenders of my fair City are acquainted with the attorneys representing the interests of Gosling's Export (Bermuda) Ltd, because — just between us kids — I've seen them pouring pretty much any dark rum that comes to hand. And trust me, I've watched a lot of these being made this winter: It seems like every Dom, Duggan, and Harry in SF has added this golden tipple to their cocktail list. Bars of some fame have hosted entire evenings devoted to the drink (Dark n' Stormy night, har har). There's no denying it: San Francisco's pros may be knocking back Fernet, but the paying stiffs out front are guzzling rum-spiked ginger beer like it's never going out of style.
Contrarian though I am, I'll grudgingly admit that the best Dark and Stormys we sampled were indeed made with the legally prescribed brand. But I think it's safe to say that your choice of ginger brew — and please, don't use that supermarket crap, or even the fabulously subtle Fever-Tree here — will have a much more dramatic effect on the end result than any small variations in rum labels.
Given the drink's naval origins, it's a fair bet that Pusser's wouldn't be far off the traditional mark, for example. And I'll vouch that the drink's awfully good when made with a quality gold rum — like Appleton VX — and a sassy Southern ginger ale like Blenheim… although this turns it into something more like a "Fair n' Breezy". Cameron, lover of all things molasses, prefers his Stormys on the Extra Dark side, made with Cruzan Blackstrap and Bunda from Down Undah.
So, go ahead: Experiment, and find your own favorite combination. We promise not to sic the laywers on you.
Dark & Stormy
2 oz dark rum, preferably Gosling's Black Seal
6 oz ginger beer (or quality ginger ale)
limes
Fill a highball glass with ice, and pour the rum over the rocks. Add the ginger beer to fill, and garnish with a healthy wedge of lime.