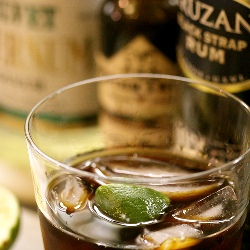 I am not an enormous fan of rum, except for when I'm vacationing in a tropical clime. Then, it's practically the only thing that I want to drink. I blush to think of how many Painkillers I put away during our too-brief trips to the British Virgin Islands, and as soon as my feet touch the ground in Hawaii, I develop a thirst for Mai Tais that strains the bounds of good taste.
But take the boy out of the tropics and the desire fades. The fruity mixtures never taste as good back in the real world, and when the going gets hot, I'd just as soon have a tequila (or gin) and tonic or a cold beer.
This week's drink may change that, as I've fallen in lust with Cruzan Black Strap rum. It's the perfect liquor to have a summer fling with: a bold, sexy troublemaker that dares you to stay out late. You know that by the end of the summer it will seem pushy and cloying, but until then: wow, what a body.
The enabler of my infatuation is the Corn 'n' Oil, a traditional drink from Barbados and other points Caribbean. The essential ingredients are rum and falernum — beyond that the proportions and additions vary greatly. For the rich, sweet Black Strap, use the recipe below. If you're using a paler rum, double the falernum and ease off on the bitters and lime.
Want more? Allow me the honor of introducing you to several worthies who have written extensively on both the provenance of the drink and the history of (and creation of): falernum. Like the man said, I stand on the shoulders of giants.
Corn 'n' Oil
2 oz Cruzan Black Strap rum
1/4 oz Velvet Falernum
2-3 dashes aromatic bitters
Juice of 1/4 lime
Build over ice in double old-fashioned glass.