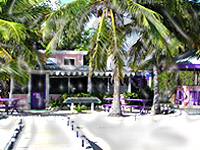 Meeta at What's for Lunch Honey? is hosting this month's Mixology Monday:
Topic for this event is Exotic Drinks — from the Bahama Mamas you order while on vacation to the ongoing exploration of Grog Log, this event is for the colorful, the relaxing, the vibrant.
Careful observers will note that today's actually Friday, but DOTW traditions must go on! Just call us slightly ahead of the curve.
Picking our favorite exotic cocktail is easy: We stumbled — perhaps a bit too literally — onto the Painkiller during our first trip to Tortola, ages ago, at a beachfront bar called De Loose Mongoose (pictured above) The running joke as we mixed them up on the guest-house porch of Mermaid Villa was "hey, go easy on the orange juice!"… because the rum was so damned cheap and the OJ was imported by air from Puerto Rico.

The Painkiller
4 ounces unsweetened pineapple juice
1 ounce orange juice
1 ounce Coco Lopez coconut cream
2 to 4 ounces dark rum (preferably Pusser's)
whole nutmeg
Mix all ingredients together, then pour into a highball glass filled with ice. Top with a grating of fresh nutmeg, and garnish with a wedge of pineapple, if desired.