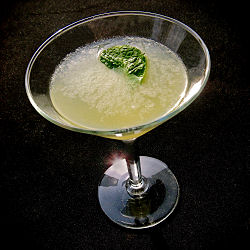 Oh, hi — are you still here? Dang, sorry about that. We've done the metaphorical equivalent of falling asleep at the WordPress dashboard, and yet you kept coming by. That's so sweet.
But enough navel-gazing: We're back! We've got a great few posts in the hopper, including a brand new eat-local challenge for the summer. First, though, I think we're definitely overdue for a drink.
One of the cool things that happened before our spring slump kicked in was Cocktail Week: Seven whole days devoted to well-made libations, visits from cocktail illuminiati, and some of the city's best restaurants offering multi-course meals with inventive cocktail pairings. (Imagine eight pork dishes — including two delicious desserts — with seven different American-whiskey cocktails: Foodie hotspot Orson hosted this Bourbon & Bacon extravaganza, and I dream of it still.)
Another night, the folks at CUESA hosted a Farmers Market Cocktails tasting in the arcade of the legendary Ferry Building. At the mercy of one of those unseasonably hot days we get each May, a few hundred cocktail fans packed under the archways like a tin of tipsy sardines. Happily, we ran into many of our local blog buddies, which made for fabulous chit-chat as we sampled and sweltered.
Sadly, although I love fresh-fruit cocktails, Cocktail Week falls at possibly the worst time of the year for that sort of thing. Specialty citrus is pretty much gone, stone fruits are weeks away, and there's not much on hand but some early-season strawberries and underripe cherries. As a result, I was not captivated by many of the drinks we tasted at the event, despite their being created by some of the best bartenders in town.
The best sip of the evening was the official drink of San Francisco Cocktail Week 2008: The Soirée. It features both green Chartreuse and St-Germain elderflower liqueur — two of my favorite ingredients — woven together with the muskiness of silver tequila, a sour punch of lemon, and the whispered spice of a Latin-inspired tincture. It sounds like the sort of crazy mess you might expect from a collaboration of a trio of star bartenders… but it's actually delicious. (Of course, it didn't hurt that the version we sampled that night was shaken up by one of our favorite mixologists.)
The chile-cinnamon-cocoa tincture — definitely not optional — requires a little effort, but the ingredients can be found in any decently stocked bulk foods department. With a quick shopping trip, a few minutes of prep, and a little patient steeping, you can throw your own Soirée whenever the mood strikes.
The Soirée
1.5 ounces silver tequila
1/2 ounce St. Germain elderflower liqueur
1/2 ounce green Chartreuse
1/2 ounce lemon juice
2 dashes mole tincture
Mint, for garnish
Shake all ingredients with ice, and strain into a chilled cocktail glass. Garnish with a sprig of mint.
Mole Tincture
1 cinnamon stick, broken into pieces
3-1/2 T cacao nibs
1/4 red bell pepper, minced
1 dried very hot chile (such as de arbol)
5oz silver tequila
Place all the ingredients into a jelly jar with a tight-fitting lid. Shake the jar twice daily for four days then strain the mixture, first through a sieve, then through a coffee filter before bottling.