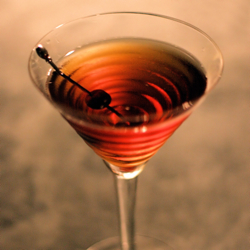 It seems like ages ago that we chose Benedictine as the theme for the second edition of Raiders of the Lost Cocktail over on The Spirit World. As November wound down, tasty-sounding cocktails popped up in the comments section, and we all held our breath waiting for the judges to pronounce a winner. The silence was deafening.
About a week ago, I got an email from Andrew, The Spirit World's intrepid editor, asking me when I'd be able to send him my choice for RotLC winner.
Come again?
Never mind that the previous episodes' rules had clearly stated "The winner will be chosen by consensus judgment of the TSW staff". Andrew made it plain that the Powers That Be would not take no for an answer. I was duly deputized to act as their collective liver brain in matters Benedictine.
People, if you think that it was tough for me to choose a mixable yet somewhat obscure spirit, you have no idea how hard it was to pick the winning drink from a batch submitted by friends and colleagues!
But duty called. I printed out a list of recipes — leaving off the names of their contributors — and gathered a double armload of ingredients from the bar. Some promising drinks were doomed from the start, being previously unpublished recipes, or personal variations of classics. Remember, dear reader, the purpose of Raiders is resurrecting the cocktails of yore, finding them a new audience among the modern mixology mavens.
And then there were more than a few that fell outside the bounds of "relatively common ingredients" and "simpler construction". (Does your neighborhood tavern stock creme de roses? Raspberry syrup? Whole eggs? Mmm, yeah… mine either.)
Even after winnowing the wheat from the chaff, we were left with a healthy roster of candidates. We shook, we stirred, we sipped, we shot. We tasted and tested, and resisted the temptation to tweak. When all was said and done, two drinks rose to the top of the pack, and we set those recipes aside for a second night of testing on fresh palates.
The first, Tango No. 2, was dead simple: Equal parts dry and sweet vermouth, Benedictine, white rum, and orange juice. No complicated garnish, no funky glassware, no special equipment. The combination of rum and OJ brought out the Benedictine's citrus notes, and the two vermouths played well with its herbal components. A well-balanced drink and a serious contender.
But the drink that won our hearts — the one we both tried to sneak away with when judging was done — was the Cocktail a la Louisiane. The lovechild of the creole Sazerac and the yankee Manhattan, the Louisiane's gorgeous glow warms a jaded soul. We worried a few moments about the "preference to common ingredients" clause, as La Louisiane is best with absinthe. But we rationalized that the bottle of pastis you're likely to find in most big-city bars is sufficient to make this old New Orleans gem shine brightly.
So, ladies and gents, a round of applause for Paul Clarke of The Cocktail Chronicles, the promoter of this fair libation, and the lucky fellow who'll pick next month's signature ingredient.
Cocktail a la Louisiane
– from Stanley Clisby Arthur's Famous New Orleans Drinks and How to Mix 'Em
3/4 ounce rye
3/4 ounce Benedictine
3/4 ounce sweet vermouth
3 dashes Peychaud's bitters
3 dashes absinthe, Herbsaint, or pastis
Stir all ingredients in an ice-filled mixing glass. Strain into a well-chilled cocktail glass, garnish with a cherry.
Mixing note: It's simple to measure three dashes of bitters — they come in a shaker-top bottle, after all. The absinthe's a bit trickier, and even a slightly heavy hand will throw your drink off balance. To keep the anise in line, we shook the bitters into a bar spoon to get a rough idea of what "three dashes" looked like, then measured an equal amount of absinthe. If you find yourself smitten enough to adopt the Louisiane as your winter tipple, fill an empty bitters bottle with absinthe to keep the ritual simple.