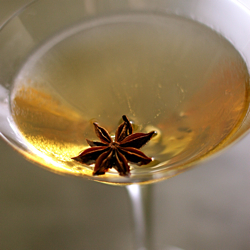 A month or so ago, at last unable to ignore the murmurs of delight circulating around the cocktail world, we sought out a bottle of Rhum Clément Creole Shrubb, an orange liqueur from Martinique. Made by infusing a blend of white and aged rums with spices and bitter orange peels, Creole Shrubb turns out to be quite different from the usual, more-neutral orange liqueurs. Its complexity intrigued us, but because we knew its dusky mysteriousness would make it an imperfect match for existing recipes, the Creole Shrubb languished on our "try me" shelf.
Last week, we received a bottle of Domaine de Canton, a ginger-cognac liqueur created by John Cooper (brother to Rob Cooper, creator of St. Germain) that has received a fair bit of positive press. As soon as I heard "ginger," a light bulb went off in my head. Perhaps we'd finally found a companion for Creole Shrubb's exotic overtones — and just in time for this month's fruit liqueur edition of Mixology Monday.
Creole Shrubb's orange spice would be a natural match for the gingery Canton. Their families would get along, knit together by a shared history of tropical French colonialism: Creole Shrubb from les Antilles, Domaine de Canton with its roots in Indochine. Creole and Canton would fall in love and have beautiful little minibar bottles. Truly, I am the yenta of booze.

And yet, while the path to true love glowed ahead like a sunset on tropical shores, there was the danger this marriage of two sweet principals could become a sticky, sappy affair that would destroy itself in an explosion of pet names and babytalk. ("No, I wuv *you*, Cherie!") Clearly, a sharp, antiseptic, perhaps even military chaperone was necessary — a no-nonsense personality to temper the flighty natures of our two romantics. I scanned the liquor cabinet and a grizzled naval officer stepped forward: Plymouth gin.
I must modestly admit that the first meeting of the three was a roaring success. I began by introducing them in equal amounts, reasoning that none would easily get the upper hand. These proportions turned out to be nearly ideal. When it seemed that the conversation could use a bit of lubricant, I blessed the vessel with a drop of bitters, and the addition brought the group together in even greater harmony.
Should you wish to arrange your own meeting, I have provided a guide below. If you must substitute, be prepared to tinker with the proportions. The penetrating sting of the Plymouth gin is especially (and surprisingly) important.
Asian Orange
1 oz Plymouth gin
1 oz Domaine de Canton
1 oz Rhum Clément Creole Shrubb
2 dashes Angostura bitters (or one dainty drop of Fee Brothers Whiskey Barrel Aged)
Combine in an ice-filled glass and stir until chilled. Strain into a chilled cocktail glass. Garnish with star anise, if desired.