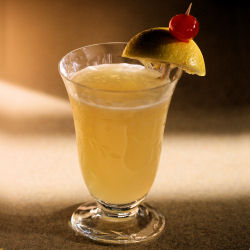 I distinctly recall the first time I drank a Whiskey Sour. Our friends Jason and Maggie, eking their way through grad school, lived in East Palo Alto (pre Four Seasons, pre Ikea). Their apartment sat tucked behind a bungalow facing the 101 frontage road. The neighbor who lived in said bungalow was an affable fellow named Drew, a long-haired techie, musician, and tinkerer. The bungalow inevitably became the scene of numerous jam sessions: late-night sing-alongs fueled by a potent mixture of whiskey, powdered sugar, ice, and the juice of the Meyer lemons that grew right outside Drew's kitchen window… all whizzed up in the blender. (Hey, we were young.)
Like the Cape Codder and the Gin & Tonic, the Whiskey Sour is one of those highly adaptable libations that can be successfully concocted nearly anywhere. The lemon juice puts it a bit beyond the reach of the average hotel minibar, but anyone with access to an airport lounge, a rural grocer, or a even a half-decent convenience store can enjoy a respectable version without much fuss.
Depending on your personal palate and your choice of whiskey — in deference both to old memories and my mom's limited provisions, we brought out the Beam — do vary the amount of simple syrup. Canadian, bourbon, blended, even rye… they're all fair game here. Our bottom-shelf version, complete with a WalMart nuclear cherry on top, was perfectly fine; I can hardly wait to mix one up with the good stuff when I get home.
Whiskey Sour
1-1/2 oz fresh lemon juice
2 to 2-1/2 oz whiskey
1/2 to 1-1/2 oz simple syrup
lemon wedge and cherry for garnish
Shake the juice, whiskey, and syrup with ice; strain into a chilled sour glass or rocks glass. Garnish with the lemon wedge and cherry.