When Sean and DPaul asked me to contribute a signature cocktail to serve with the appetizer course at their holiday soirée last weekend, I kept running into dead ends. For my previous stint behind the Hedonia bar, I'd whipped up a pair of well-received drinks, but for the holidays I wanted to try something a little more classically festive — and what's more festive than bubbly?
But, if you know those Hedonia boys, you know that their parties are a feast for the eyes as well as the palate; a simple Champagne cocktail — classic though it may be — would not do. No, I needed a conversation starter, a 'wow' of a drink that would be sure to set off the beautiful hors d'oeuvres. I toyed with a number of ideas, but kept coming back to the idea of poinsettias and other holiday flowers. Then, while digging through the liquor cabinet, I noticed a jar of candied hibiscus flowers: pretty, festive, and a perfect holiday red.
The purveyor of these little antipodean garnishes suggests dropping one blossom into a flute of bubbly, with or without a splash of its syrup. But even before I remembered Craig's choice for this month's Mixology Monday theme, I knew that I wanted to avoid fruity flavors and move things more into the spice realm.
At first, I tried a simple Champagne and Ginger cocktail, using Domaine de Canton ginger liqueur. Although sweet and pleasant, it really didn't have the oomph I was looking for. A few hearty dashes of super-spicy whiskey barrel-aged bitters helped a bit, but really didn't carry the drink into fabulousness.
Then I remembered an experiment from two winters ago. In the days before Domain de Canton hit the shelves, I'd spent a few months trying different techniques to get a strong ginger flavor into a cocktail without using ginger beer, mostly unsuccessfully. But then a "so simple it couldn't work" idea paid off, and I ended up with a batch of spicy, faintly sweet infusion with a true ginger flavor. A repeat batch of this crystallized ginger digestif turned out to be just the thing to make my holiday sparkler shine.
But back to the garnish: I sampled some of the syrup the blossoms were preserved in, so I had a good handle on their flavor. However, the jar of flowers only held 11 blossoms and I had 10 guests to serve, so I hoarded them all for party night. Little did I know that, instead of the pretty little flowers shown in all the marketing shots, the blooms would become translucent red aliens in the cocktail glass, wicked half-plant/half-animal mutants straight out of a sci-fi movie.
Luckily our hosts and friends were gracious enough to humor our cocktail folly; only one guest refused (vehemently, I might add) to sample the flower, which does indeed taste like a sweet-tart berry. And once the bizarre garnish was gobbled up, everyone asked for refills on their spicy Champagne.
Looking through the photos that DPaul graciously sent over (I managed to bring my camera, but forgot the memory card), I realized that the hibiscus blossom looks like the head of a snake, or a sandworm from the movie version of Dune… a story that's — appropriately enough — all about spice.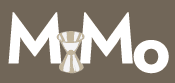 Shai Hulud
1 oz homemade ginger liqueur
- or 1 oz Domaine de Canton plus 1/2 tsp ginger juice
5 dashes Fee Brothers Whiskey Barrel-Aged bitters
Champagne or other dry sparkling wine
candied hibiscus flowers
Measure the ginger liqueur and bitters into a coupe. Top with bubbly and garnish with a hibiscus flower.
Ginger Liqueur
3 oz crystallized ginger chunks
- available in the baking aisle or bulk foods stores
8 oz 80-proof vodka
Combine in a lidded jar. Let steep for two days, then shake; you should notice dark, syrupy threads diluting into the vodka. Continue to steep, shaking once a day, until you reach your desired level of spiciness.