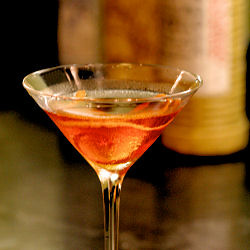 While trying to untangle the history of the Martinez, I started to feel like Jack Nicholson trying to get a straight answer out of Faye Dunaway in "Chinatown". Built primarily from gin and sweet vermouth, the Martinez looks like the love child of the Martini and the Manhattan.
In the annals of cocktail lore, the Martinez is often cited as the parent of the Martini. Sister? Daughter? Both? Aw hell, Jake. I guess you can add cocktails to the list of things that get respectable if they last long enough.
Like many classic cocktails, the Martinez mutated over the years in response to changing tastes and available ingredients. Originally made with Old Tom Gin and a larger vermouth-to-gin ratio, the modern Martinez is a much drier tipple.
Martinez
– adapted from Gary Regan's The Joy of Mixology
2 oz gin
1 oz sweet vermouth
2 to 3 dashes, or up to 1/4 oz Maraschino liqueur
1 dash bitters (typically Angostura, but Peychaud's for an interesting variation)
lemon or orange twist
Combine liquid ingredients in cocktail shaker over ice. Stir until well chilled, and strain into a cocktail glass. Garnish with twist.