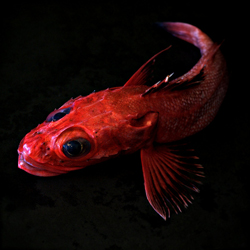 We were caught unawares, but isn't that how it always happens? It seemed an innocent enough Sunday cruise through the Marin Farmers Market, looking for the coming week's dinners. With a Marin Sun Farms chicken and some Devil's Gulch pork chops already safely tucked away, we drifted into the Santa Rosa Seafood tent and were suddenly entranced.
Odysseus could hardly have been more enraptured by the Sirens than we were enchanted by the beautiful, sleek, glossy-eyed fishies staring out from their beds of crushed ice. Sorting out which finny critters had been caught locally took some shouting between the guys working the floor and the fishwives (well, hell… what else are you going to call them?) gutting customers' orders, but eventually we learned that the bright red, medium-sized rosefish had been hauled out of the water near Monterey. Not only were these guys beautiful, they were also just the right size for one of the few Thai dishes that I can claim as my own: whole fried fish.
Now, this is no batter-dipped chip buddy — it's an entirely different kettle of… er… fish. A typical batter crisps up while leaving the fish underneath tender. But to cook a whole fish Thai style, you cut a series of deep slashes in its flanks, dust it with tapioca starch and drop it — fins and all — into hot oil for an extended bath: 20 minutes or more. This treatment drives the water out of most of the meat, turning it into a delicious, chewy, crunchy treat that comes off the skeleton in bits that are perfect for dipping in tamarind-based hot sauce. I'll leave it up to you whether to let your guests in on the secret treats: The fins and tail (and in some cases the exposed bones) become as crunchy as potato chips, and there are plenty of succulent bits to be had in and around the head.
But our story isn't quite done yet. We were within a hair of being able to make this our One Local Summer dinner for the week, but the sauce recipe calls for tamarind — not exactly a Bay Area native. Fortunately, I roll with the McGuyver of the Kitchen, who suggested that (local) pluots combined with lime juice would bring the necessary tang and body to our dipping sauce.
Crispy Fried Fish with Chili-Tamarind Sauce
- adapted from a recipe by Kasma Loha-unchit
A 1-1/2# firm, white-fleshed fish (such as snapper or perch), scaled and cleaned
1/4 tsp sea salt
1/8 tsp ground white pepper
8 cloves garlic, minced
4 fresh red jalapeño or Fresno peppers, minced*
2 shallots, minced
1-inch section fresh peeled fresh ginger, minced fine
1 T minced cilantro roots (or stems)
10 white peppercorns
2 to 3 cups peanut oil (for frying)
3 to 4 T tapioca starch
2 to 3 T Thai fish sauce
1/2 cup thick tamarind puree
1 T palm sugar, or more to taste
1/2 cup Thai basil leaves
A few sprigs of cilantro or Thai basil for garnish
2 to 4 Thai bird chiles, sliced thin, for garnish
Check to see that all the scales have been removed from your fish, and that the innards/guts are removed. Using a sharp knife, cut 3 to 5 deep gashes (depending on the size of the fish) in each side of the fish. The cuts should be at a 45-degree angle to the midline of the fish, with the top of each cut closer to the head and the bottom closer to the tail. Rinse the fish, drain, and pat dry. Rub evenly with a thin coating of salt and white pepper. If the fish has been refrigerated, let sit out up to an hour to warm to room temperature before frying.
Mix the garlic, peppers, shallots, ginger, and cilantro roots/stems. Using a large, heavy mortar and pestle, pulverize the peppecorns. Then add the minced aromatics, stir to mix well, and pound to a smooth paste.
Heat the oil in a wok over high heat until a bit of tapioca starch (or other test tidbit) dropped in the oil begins to bubble almost immediately. Coat the fish with a very thin layer of tapioca starch, and slip it into the oil. Fry the fish, turning it and ladling oil over it as necessary, until it is browned and crispy on both sides from head to tail (about 10 minutes on each side). Manage the flame to keep the oil bubbling vigorously, but not frantically, so that the fish can crisp thoroughly without burning. Remove the fish from the oil and cool on a wire rack for a few minutes before placing on a serving platter.
Pour off the oil from the wok, except for two tablespoons. Add the pounded chili mixture and sauté over medium heat for 2 to 3 minutes. Add fish sauce, tamarind, and palm sugar until the spicy, sour, sweet, and salty flavors are equally balanced. The sauce should be the consistency of a thick salsa — thin with water if it becomes too dry. Cook a minute to blend the flavor, then stir in the basil and cook just enough to wilt.
Spread half the sauce evenly over the fish and the other half along sides of the platter. Garnish with cilantro or Thai basil sprigs and the sliced chiles.
* Note: Do not seed the chilies unless you wish the sauce to be mild. For a medium-hot dish, remove the seeds from half the chilies.
---
Farmers and food artisans who created the ingredients for this week's recipe:

Santa Rosa Seafood
, Santa Rosa: Rosefish (Monterey-caught)

Hunter Orchards
, Grenada: Garlic
Xiong Farm
, Fresno: Thai bird chiles, Fresno chiles, ginger
Dirty Girl Produce
, Santa Cruz: Shallots
Kashiwase Farms
, Winton: Pluots
Paradez Farms
, Exeter: Limes
…and our own homegrown Thai basil and cilantro