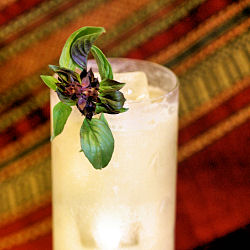 I'm a big fan of Food & Wine magazine's annual pocket-sized cocktail compilations. I picked up my first edition a few years back as an impulse buy in the supermarket checkout lane. Flipping through the slim volume while the woman in front of me attempted to write a check for her $4 order, I spied a recipe from the Zig-Zag boys and bought it on the spot.
Every year since then, I've waited impatiently for the new version each spring. Though I don't always find a new favorite, there are enough "keeper" recipes in every edition that it's worth the small expense — about $10 — and the photography and prop styling offer plenty of visual inspiration.
This year's edition features a whopping 17 recipes from Bay Area bars and restaurants, including favorites like Nopa, Forbidden Island, Alembic, and more. Surely, I thought, there must be a good rum recipe in there, worthy of this month's Mixology Monday roundup — hosted, aptly enough, by Trader Tiki.
Alas, somebody at F&W missed the memo about rum's hot streak: A good chunk of the drinks in the Rum chapter are actually made with rum's Brazilan cousin, cachaça. But one concoction did catch my eye: Scott Beattie's "Thai Boxer" — a vanilla-rum drink that uses unsweetened coconut milk, muddled Asian herbs, and a dose of ginger ale. Truthfully, I'm not a huge fan of culinary cocktails that require a grocery-store excursion, but it just so happens that (a) I keep a case of coconut milk on hand for Thai curries and (b) we actually have all the herb ingredients growing in our yard.
Much as I love the folks at Charbay, I was reluctant to splash out $35+ for a bottle of their boutique vanilla rum, not knowing if I'd find another use for it. Perhaps it was a blessing in disguise: There wasn't a single bottle to be found at any of my regular liquor shops. Happily, spiced spirits are one of the quickest and easiest infusions to make, and I was very pleased with my first effort at home-made vanilla rum.
But back to the recipe: Once the shopping's done and the vanilla rum's steeped, the hard part's definitely done. I took the liberty of replacing the original recipe's simple syrup with an equal amount of Canton ginger liqueur to double up the ginger beer's flavor. Much like its namesake, this Thai Boxer's a cute little thing with a surprisingly lethal kick.
Thai Boxer
- Adapted from a recipe by Scott Beattie in Food & Wine Cocktails 2008
10 leaves Thai basil, plus a sprig for garnish


10 leaves fresh mint
10 leaves cilantro
1/2 oz Canton ginger liqueur, or simple syrup
1-1/2 oz vanilla rum (see Note 1)
1 oz lime juice
1/2 oz unsweetened coconut milk (see Note 2)
ginger beer, or a quality ginger ale
In a mixing glass, muddle the herbs with the liqueur or syrup. Add the rum, lime juice, coconut milk, and shake with ice until well chilled. Double-strain (using a Hawthorne strainer to hold back the ice and a fine sieve to catch the bits of herbs) into an ice-filled highball glass, and top with ginger beer. Garnish with a spring of Thai basil.
Note 1: If you can't find a natural vanilla rum — Beattie recommends Charbay Tahitian Vanilla, which seems to be in short supply, even here in the Bay Area — it's easy to make your own. Split and finely grind (or chop) a vanilla bean and steep in 8oz of white rum. Shake periodically, and strain through cheesecloth after 48 hours. Whatever you do, please steer clear of the artificially enhanced mass-market brands.
Note 2: You're looking for the unsweetened Asian stuff here, not that 'coco creme' crap. Try to not shake the coconut milk before using. In fact, it's best if you can refrigerate the can for a day beforehand to allow the coconut cream to rise to the top and solidify. Be sure you're using the thinner, watery milk at the bottom of the can for this recipe, or you'll end up with an unappetizing film on the sides of the glass and a greasy-tasting drink.
—–
Other Drink of the Week posts featuring Rum:
Millionaire Cocktail #1 with Plymouth Sloe Gin
Fugu for Two at Forbidden Island
Dark & Stormy, San Francisco's winter fave
Mai Tai at the Tiki-ti
Piña Coladas, au naturel
Mojitos a la Murray
Corn 'n' Oil, Cameron's favorite rum drink
Bloody Beach, a Blood and Sand variation
Eggnog for a festive occasion
Painkillers straight from Tortola
Jolly Roger, for Talk Like a Pirate Day
Canton (aka Chinese Cocktail), the very first DOTW