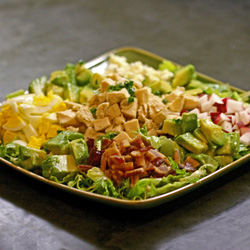 Our usual Saturday breakfast excursions to Primavera — the legendary Mexican-food stall at the Ferry Plaza Farmers Market — are not without a downside. Eating a big plate of chilaquiles or fish tacos or tostadas de ceviche at 9am means we're rarely hungry for lunch before mid-afternoon.
Sometimes we're smart enough to start supper preparations early enough to head off the inevitable 4 o'clock stomach-rumblings. But more often than not, we're grabbing leftovers or heading to one of our local cheap-eats standbys for a quick bite. Of course, this course of action only prolongs our agony: In our hunger, we eat a full meal.. and then we're rarely in the mood for for a full-sized dinner. But if we skip our usual evening meal, we often find ourselves hungry again by bedtime.
Clearly, the smart thing to would be to plan for this eventuality, stocking the larder with a few larger-than-snack, smaller-than-meal options for weekend needs. Obviously, we're not too bright; we know we need to do this, but it's one of those things that just ain't glamorous enough to make it to the top of the to-do list.
Last weekend, while rooting through the fridge, I realized that we had all the makings of a really fabulous Cobb salad. (I'm not entirely sure why it took me so long to notice this; it's not like eggs, bacon, or avocados are any stranger to our kitchen.) Even if we had been lacking one of the main ingredients — tomatoes aren't always in season, and avocados do go away for a few months, even here in California — this meat-blessed salad makes an adaptable standby, ready to alleviate hunger pangs without stuffing you to the gills.
The best part of making a Cobb at home isn't that you get to use fabulous ingredients, although that's undeniably a strong argument in favor of the do-it-yourself approach. No, the very best reason is that you get to toss the damned thing in a proper bowl before plating it. Don't get me wrong: A prettily composed Cobb is a thing of beauty. But whenever I order one at a restaurant, I end up regretting it. The first few bites are fine, but by the time I'm halfway done, my tastebuds are exhausted by the onslaught of salty, potent flavors. If I push on bravely, I'm left with underdressed, undergarnished lettuce at the bottom of a very sad bowl.
My mom's a fan of the Cobb salad — and, yes, she's as neurotic about un-tossed salads as I am. (Maybe that's where I got it? Hmm…) So whipping up a Cobb salad seems like an especially appropriate Mother's Day treat.
Cobb Salad
– serves 4 as a main course
10-12 cups torn lettuce
- preferably a combination of romaine, red leaf, and something spiky like frisee or escarole
8 strips of bacon, cooked medium-crisp
1 to 2 cups cooked chicken
4 hard-boiled eggs
2 medium avocados
1 cup grape tomatoes, halved (or 1 cup diced radishes when tomatoes aren't in season)
1 cup crumbled blue cheese
2T chopped fresh chives
–
2T red-wine vinegar
2 cloves garlic, pressed*
1 tsp salt
1/2 tsp black pepper
1/2 tsp Worcestershire sauce
1/2 tsp lemon juice
1/2 cup olive oil
Cut the bacon, chicken, eggs, and avocado into 1/2-inch pieces; set aside.
Whisk together the vinegar, garlic, salt, pepper, Worcestershire, and lemon juice. Slowly drizzle in the oil, whisking until emulsified.
Toss the lettuce with 2/3 of the dressing, and arrange the tossed lettuce on a deep platter or shallow pasta-serving bowl. Toss the chicken cubes with the remaining dressing, and place the chicken in the center of the lettuce, in a tidy pile. Surround the chicken with the remaining ingredients, each one stacked in its own pile. Sprinkle the composed salad with chives.
Show off your beautiful salad to your dining companions, then return to the kitchen to toss all ingredients together. Serve in 4 chilled pasta bowls or other entree-sized shallow bowls.
* I'm not normally in favor of the garlic press, but I think that making salad dressings is one application where it really shines.