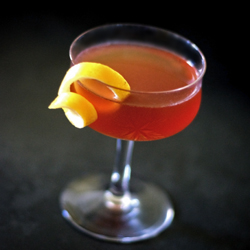 We're no strangers to homemade cocktail ingredients. We've been making limoncello (and other citrus liqueurs) for ages, along with nocino, alkermes, plum brandy, and plenty of other infusions. We've simmered up our own grenadine, brewed a batch or two of ginger beer, steeped jar after jar of cocktail cherries, and infused more flavored syrups than any reasonable person's fridge can hold.
Last summer, we hit upon a new favorite: infused brandy using the excess pears from our friends' tree. Since it's an infusion, rather than distilled pear cider, our homemade drink is closer to a pear-brandy liqueur — like Belle de Brillet — than to a potent poire william eau de vie or the grappa-style Clear Creek pear brandy. We've mostly sipped it neat or mixed into bubbly, with or without a little simple syrup. But there's no reason why it wouldn't be a great mixing ingredient… especially as it doesn't really improve with age, and in fact deteriorates fairly quickly after the initial infusion.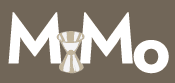 There aren't many cocktails that call for pear spirits, but there are plenty that use calvados and applejack to great effect. One such drink, the Jack Rose, dates to the pre-Prohibition era, and was especially popular in the Northeast where applejack was distilled in great quantity. Many theories abound as to the drink's name origins, but it seems pretty likely that it's Jack from booze and Rose from the color, as opposed to any gangster or bartender-nickname references.
The usual recipes for the Jack Rose are split fairly well between lemon and lime juice. When using applejack, I think either option is pleasant, though I will admit a small preference for lime when mixing the stronger Laird's Bonded. But if you're making the switch to pear brandy, definitely go with lemons — and Meyer lemons, if you can find them — as the subtler pear flavors are lost amidst lime's extra tartness.
With a slight change to the more-Frenchified pear brandy, we christen our variation the Jacques Rose. It's made with all home-made or home-grown ingredients, in honor of Mixology Monday "Made From Scratch," hosted by The Pegu Blog.
Jacques Rose
2-1/2 oz pear brandy (or substitute 1-1/2 oz brandy + 1 oz poire william)
3/4 oz lemon juice
2-3 dashes grenadine
Shake with ice, and strain into a chilled cocktail glass. Garnish with a lemon twist.