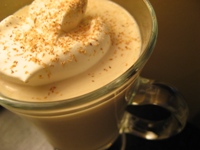 The Spirit World's hosting this month's edition of MxMo, with the theme of "cocktails for a festive occasion" — holiday-themed drinks that, ideally, can be made in bulk, ahead of time, and that guests can pour themselves.
This one's easy: I love eggnog, and I don't even mind the stuff that comes in a carton at the megamart. When winter rolls around, I keep a quart on hand in the fridge, and it makes a good option (minus the strengthening shot of booze, of course) for those mornings when I don't have time for real breakfast.
The custardy eggnog below is a variation of a Cook's Illustrated recipe. It's a little more complicated than a standard eggnog where you simply whisk everything together, but it yields a more luscious drink… and one that's a lot less prone to grossing out your guests than eggnogs that use raw eggs (and leave slimy dregs in your glass).
I've halved the original recipe, which made 12 exceedingly rich servings. (I like eggnog, but not with every meal for a week…) Even so, the recipe is still good for a small crowd; feel free to double it, should your guest list require.

Velvet Eggnog
3 large eggs
1 egg yolk
1/4 cup + 1T granulated sugar
pinch table salt
2 cups whole milk
1/4 cup spiced rum or brandy
1-1/2 tsp vanilla extract
1/4 tsp freshly grated nutmeg, plus extra for garnish
1/4 tsp allspice
1/4 cup heavy cream, whipped to soft peaks, plus extra for garnish
Whisk the eggs, yolk, sugar and salt in a heavy medium saucepan. Stir in the milk gradually, blending well. Turn the heat to low and stir contantly until custard thickens and lightly coats the back of a spoon, approximately 25 minutes.
Pour the custard through a fine seive into a large bowl. Cool to room temperature by stirring gently, preferably over a cold-water bath. Stir in the booze and other seasonings. Cover tightly and refrigerate at least 3 hours.
Before serving, fold the whipped cream into the custard mixture. Serve, garnished with a dollop of whipped cream and grated nutmeg.
Makes six 1/2-cup servings.
Note: Feel free to make this recipe ahead for parties — the eggnog keeps in a well-chilled fridge for up to 3 days, and the flavors improve with time.