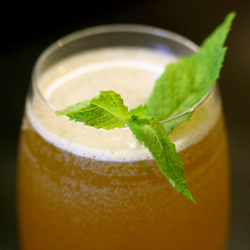 I'll spare you the history and variations of this particular Audrey Saunders creation for two reasons: (1) We're doing our best to get ready for next week's pilgrimage to Tales of the Cocktail and (2) it's already been covered extensively by everyone from the lowbrow to the highbrow, plus a handful of cocktail bloggers in between.
But here's the reason it's on our radar: Last night, we met up for dinner and drinks with out-of-town guests, Morgan — one-third of the Drink Dogma troika — and his lovely wife Stacey. Our first stop was Nopa, one of our favorite cocktail-savvy restaurants, both because of their fabulous bar program and their delicious (and locavore-friendly) food.
Stacey and I both ordered an Old Cuban to start, but — because I was too busy being social — I didn't get a chance to take a picture, nor to see how they were putting together this effervescent refresher. Which is a damned shame because now I haven't the faintest idea how they get this drink to be a rather flamboyant, Shrek-like shade of green.
Even using silver rum (an unorthodox variation, given the Bacardi 8 in the original recipe) I couldn't achieve anything more than a Mojito-colored khaki. Obviously I need to go back to Nopa and do some more investigation.
Whatever color it is, the Old Cuban makes for a refreshing way to start a warm summer evening at the bar. And if you can talk Morgan and Stacey into joining you, I can guarantee you'll have a fabulous time.






Old Cuban Cocktail
1-1/2 oz aged rum (Bacardi 8 or Flor de Caña 7)
1 ounce simple syrup (or less, to taste)
3/4 oz fresh lime juice
2 dashes Angostura bitters
6 mint leaves
Champagne
Muddle the mint leaves with the simple syrup in a mixing glass. Add the lime juice, rum, bitters, and ice. Shake well. Double-strain (through a Hawthorne strainer and a smaller sieve) into a chilled cocktail glass or flute. Top with bubbly, and garnish with a spring of mint or half a sugared vanilla bean.