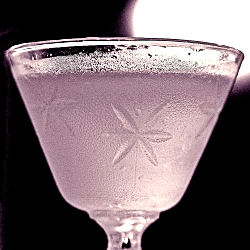 Unless you're a certified cocktail obsessive, you've probably never even heard of the gin-based cocktail known as the Blue Moon. Originally, the drink was close kin to the better-known Aviation: a heavy dose of gin with a splash of lemon, tinted a pale blue with Creme Yvette, a long-lost violet liqueur lashed with vanilla and other spices. The family resemblance doesn't stop there: Cocktail historians tell us that the original Aviation contained both Creme Yvette and Maraschino liqueurs, and its name's a nod to its original wild-blue-yonder tint.
After the Yvette disappeared, bartenders substituted other less-complex brands of creme de violette to create this once-popular violet cocktail. But soon, even the substitute became nearly impossible to find. Cocktail geeks would rummage through French liquor stores during their vacations, looking for hard-to-find bottles of a version made by Benoit Serres. Those with an unlimited cocktail budget might order a bottle of Suntory's Hermes Violet from one of the eBay sellers based in Japan. But, without going to extraordinary lengths, it simply wasn't possible to make anything close to a proper Blue Moon; the drink all but disappeared, and its cousin the Aviation lost its sky-blue hue.
All that changed last month when Haus Alpenz — best known as the importers of the cult-fave Zirbenz stone-pine liqueur — rolled out its 2007 line. In addition to another formerly-defunct ingredient, Batavia Arrack, Alpenz also brought out the first violet liqueur available in the US in recent memory: Rothman & Winter Crème de Violette.
Tasting all three violettes — the Hermes, the Rothman, and the Serres — recently with friends, we found the three brands to be about as different as violet-scented liqueurs could be. Colors ran the gamut from indigo through to deep purple. Sampled on their own, the Serres tasted driest, while the Hermes combined tooth-rattling sweetness with a shocking floral intensity. The Rothman struck a pleasant balance: Violet-hued without being garish, floral without perfumey notes.
Once mixed with other liquors in a cocktail, the brand differences mostly fade away, although the sweetness of the Hermes in particular (and the Rothman, to an extent) means you'll need a steady hand to achieve the desired blue tint without oversweetening your cocktail. I'm still partial to the Serres, myself, but — especially when factoring in price and availability — the Rothman makes a more-than-acceptable alternative.
But back to the Blue Moon: Recipes vary, but they all start with gin and violette; some stop right there, but most add lemon juice. A few recipes replace the lemon with dry vermouth and a dash of orange bitters for a Martini-esque concoction. Still others add an egg white… although that tweak really does make it a different drink, which used to be known as a Blue Devil. (Confusingly, that name's been co-opted in modern times by a mixture of gin, lemon, Maraschino, and blue curacao.) All these overlapping ingredients are making my head spin. I think I need a drink…
Blue Moon
2 oz dry gin
3/4 oz lemon juice
1/2 oz creme de violette (quantity varies by brand)
Shake ingredients with ice; strain into a chilled cocktail glass. For an Old Blue Devil, add a tablespoon of egg white before shaking.