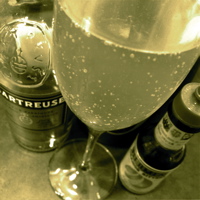 Here's another Champagne cocktail, in honor of next week's Mixology Monday festivities.
A word-prankster of the highest order, Cameron turned to me at the bar one night and asked: "If you mixed Chartreuse and Champagne, would you get a Chanteuse?" I laughed, and then exclaimed: "Hey, wait — that sounds like a tasty drink!"
Back home, a bit of experimentation proved that the two ingredients alone weren't really much of a cocktail. But add a few dashes of bitters and a splash of citrus, and you've got yourself a sparkling combination worthy of the fussiest diva.

Chanteuse
1 oz. green Chartreuse
1/2 oz. fresh lemon juice
3 to 4 dashes orange bitters
sparkling wine
In a Champagne flute, combine the Chartreuse, lemon juice, and bitters. Top with bubbly, and garnish with a lemon twist, if desired.