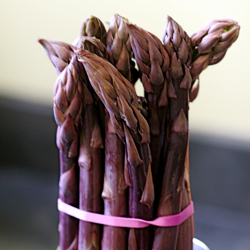 I think it's safe to say that by any objective measure, Dark Days are well behind us here in San Francisco. Asparagus has been on the farm tables for a month, strawberries made their Ferry Plaza debut this Saturday, and — hooray! — the first pasture-raised chicken of 2008 made its way into our bag (and our bellies) yesterday.
Spring has indeed sprung. And with the dawning of a new season comes the end of the Dark Days Eat Local Challenge.
I know you probably won't be shocked to hear that April 1 didn't look a whole lot different in our kitchen than March 31. We're not going to stop hunting down locally produced foods just because we aren't documenting every last morsel, after all. Three of the last five dinners we've eaten have been made with 100% local ingredients, so I think we're safely launched down this particular path.
And for that, I owe huge debt to Laura — for dreaming up Dark Days, for hosting the weekly roundups last fall, and for extending the challenge into 2008 when we all clamored for more. I can only imagine how she manages her own blog and handles her roundups of every Dark Days blogger in the country, all while moving onto her new farm, raising a new brood of chicks, and working a full-time job. (Honestly, I'm exhausted just thinking about it…) I know in my heart that we'd never have dug as deep into our food chain if it hadn't been for the thrill of the challenge, and knowing we had a built-in audience of Dark Days participants who would share our excitement.
Although we'll stop with our periodic Dark Days wrap-ups, you haven't heard the last of our locavore ways. In fact, I had high hopes of debuting a new "Bay Area Pantry" page this weekend, showcasing all the products we've found that are grown or produced within our foodshed radius. The good news is that it's 90% ready; the bad news is that time ran out on me, and the final Dark Days roundup must go on, with or without me. I still need to add some links, photos, and section headings, but I'll let you know when the pantry is fit for public consumption.
In the meantime: Here's to spring — Let the asparagus-gorging begin!
Dark Days Ticker — March 16-31
- Dark Days dinners at home: 9 out of 16
- Locavore dining-out: Mōno, O Izakaya, Marin Sun Farms butcher shop / tour lunch
- New recipes: Reuben sandwiches, feta-stuffed lamb burgers, English muffin bread
- Old faves: Not-Spam and Eggs, choucroute garnie, gumbo, beef stew, Thai beef salad
- Freezer fodder: A16 meatballs, beef stew, Mamster's carnitas, pasta bolognese
New local items in the pantry:
Middle Eastern Baking lavash (Millbrae)
Hamati pita (San Bruno)
Sconehenge English muffins (Berkeley)
Achadinha brined goat feta (Petaluma)
Fatted Calf sauerkraut, andouille, bockwurst, pastrami (Napa)
Marin Sun Farms slab bacon (Point Reyes)
Alexander Valley Gourmet sauerkraut