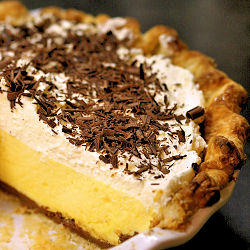 When I read that Shuna Lydon was teaching her legendary pastry tutorial — a class that, by her own admission, she's taught so many times she's lost count — I leapt at the chance to sign up. The last time I had the pleasure to learn at her elbow, I picked up countless little tricks for making outrageously tasty seasonal fruit desserts.
This time out, I finally learned why my usual pie-dough recipe is fine for savory applications like quiche, but not so hot for desserts. I got to see and feel where I'd been going wrong in my previous pie-making expeditions. As a side benefit, I got to hole up inside a breezy commercial kitchen on one of the hottest days of the year, relaxing into the busy charm of a kitchen full of women. Perhaps best of all, though, I got to come home with one seriously gorgeous pie crust for my troubles.
As I carefully ferried my flaky cargo across the bay in an insulated bag, visions of oozy pastry goodness danced before my eyes. But as bountiful as our spring produce is here already, we're in that awkward in-between stage, fruit wise. It's too late for apples, way too early for blackberries. Strawberries are coming into season, but I don't really like them cooked. I'd hoped to have enough lemons off of our tree by now to attempt a lemon meringue, but you can't rush Mother Nature. So I dusted off the cookbooks and went looking for options.
There it was, smack in the middle of my 1961 edition of The Joy of Cooking. A long-forgotten childhood favorite, that humble all-American dessert known as black-bottom pie. Line a simple pastry crust with chocolate custard (or ganache, if you're feeling modern and fancy), cover with a rum-kissed custard, and top with whipped cream. Even with the cheapest ingredients, it's indisputably delicious, even if a bit homely. When made with top-drawer bittersweet chocolate, pastured eggs, and the best dairy you can find, this simple combination turns into a dessert worthy of a pastry chef's crust.
I separated four Marin Sun Farms eggs, and right away I could tell I was in for a treat. These eggs are always delicious, but some weeks — especially in the winter — they're not especially gorgeous. These were a sure sign of spring: Yolks so yellow they were almost-orange standing proudly atop solid whites. Separating them felt almost cruel, as each half clung tenaciously to the other.
Cooking the custard until it was thick enough to coat the back of a spoon took mere moments — not the 20 minutes that Mrs. Rombauer instructed. Whipping the whites (to fold back into the custard) was equally swift: Even using a wimpy hand-held mixer, they flew right past soft peaks and into firmness in a matter of seconds. When yolks and whites were reunited, the resulting rum chiffon stood high in the bowl without the usual gelatin stiffener.
And the taste? Oh, my… so decadent. I can't give away all of Shuna's pie-crust secrets — though they're there for the taking if you know where to look.
Black-Bottom Pie
1 pie shell, blind baked and cooled to room temperature
1/2 T (approx. 1/2 packet) gelatin*
2 cups whole milk
1/2 cup sugar
4 tsp cornstarch
4 eggs, separated, with 1 white discarded
1-1/2 oz unsweetened chocolate, grated or shaved
1/2 tsp vanilla
2 T white rum
1/4 tsp cream of tartar
1/4 cup sugar
1 cup whipping cream
2 T confectioners sugar
1/2 oz bittersweet chocolate, for shaving
If using gelatin, soak in 1/4 cup cold water and set aside. Scald the milk. In a small bowl, add the sugar and cornstarch, and whisk gently to combine; set aside. In a medium metal bowl, whisk the egg yolks until light in color. Slowly stir the hot milk into the eggs with a wooden spoon or heatproof spatula, then add the sugar mixture.
Bring a cup or two of water to a simmer in a medium saucepan. When you've reached a stable, steady simmer, place the metal bowl over the steam to cook the custard. Make sure that the water is not touching the bottom of the bowl; you're cooking with the steam, not by direct water contact. Stir constantly with the spoon or spatula, making sure no hot spots develop. The custard is ready when it thickly coats the back of the spoon; this can take anywhere from 5 to 20 minutes, depending on the freshness of your eggs, the thickness of the bowl, and the speed of your simmer.
Place the grated unsweetened chocolate in a medium bowl. When the custard is done, immediately measure out 1 cup of the cooked custard into the bowl of chocolate, and stir until the chocolate melts and combines with the custard. Add the vanilla and a pinch of salt, and stir to combine. Pour the chocolate into the prepared pie shell, spreading evenly around the bottom.
If using gelatin, add it to the remaining custard while still warm, then add the rum; stir all until combined and the gelatin completely dissolves.
Using a stand mixer or electric hand mixer, beat the egg whites until stiff but not dry. Continue to mix while gradually adding the granulated sugar, a teaspoon at a time to keep from deflating your eggs.
Fold the whipped egg whites into the custard. Add the rum custard to the pie shell atop the chocolate layer, and chill the entire pie until set (about an hour).
When ready to serve, whip the cream to stiff peaks, then add the confectioners sugar. Cover the custard layer with whipped cream, and garnish with chocolate shavings or chocolate curls.
Pie will keep, in the fridge, for a couple of days.
—–
* Note: Most recipes call for a full packet of gelatin, which I find makes for a very firm, almost artificial-feeling chiffon. You can reduce it to half that amount, as noted here, to keep the texture less spongy. If you want the pie to be strictly vegetarian, the gelatin is optional providing that you're using very fresh eggs, that you don't stint on fully whipping them to stiff peaks, and that you don't mind your custard layer being a little loose. (I actually prefer it this way myself.)
Also, the egg whites are essentially raw here, so the usual food-safety caveats apply.
—–
This little slice of yolk-yellow love also happens to be our entry for A Taste of Yellow, a blog event now entering its second year. Hosted by Barbara of Winos and Foodies, A Taste of Yellow features entries from food bloggers around the world — last year's inaugural edition boasted 149 entries! — in support of LiveSTRONG Day, the Lance Armstrong Foundation's initiative to raise awareness and funds for the cancer fight.

We dedicate our Taste of Yellow post both to our hostess Barbara, in her ongoing efforts to remain cancer-free, and to our friend Briana. Many of you know her blog, Figs with Bri, where she posted Wednesday about her recent setback: breast cancer has metastasized to her lungs. Since then, her site's gone dark and her email account is offline. We're keeping Bri and her husband Marc in our thoughts and prayers, and hoping for the very best.