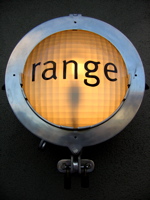 We started out the weekend at one of our favorite restaurants: Range. We've been coming here since soon after they first opened, and we — along with half of San Francisco — immediately fell in love with the coffee-rubbed pork shoulder served with creamed hominy. Then we dug deeper into the menu and found plenty of other strengths: a rotating sashimi/crudo selection, various riffs on pasta appetizers, and a bavette so good that I don't even mind that it comes pre-sliced. (No need to comment: I know it's supposed to be like that!)
It's obvious that the bar staff cares a lot about how their creations get built, and comes up with specialty drinks that — although occasionally more perfect in inspiration than in execution — are some of the most creative cocktails in the city. Service is unfailingly professional and helpful, without smothering or being overly familiar — a solid balance.
The environment is half the fun of dinner at Range: It's a little retro (industrial-meets-Art Deco, especially in the lighting), a little sexy (indirect lighting behind the backs of the banquettes) and a little hip (modern furniture, lots of brown). We like the banquettes in the main dining room quite a lot. The tables in the hallway between the bar and the main dining room, however, are a terrible place to eat: One person ends up staring at a blank wall, and the other has a view of the cooks' heads, but none of the fun of the kitchen.
Anyway, back to Friday… Cameron started with a cocktail that featured green-tea gin, Lillet blanc, chartreuse, and lemon juice. It had potential, but needed a little something more: Cameron voted for more gin, while I thought more chartreuse. My drink was the night's special, a mixture of Sun Gold tomatoes, Plymouth gin, elderflower syrup, and lemon juice. It was a lovely combination, and the tomato was a great 'secret ingredient' type of flavor, but they hadn't seived the tomatoes, so the drink was muddied by pulp and an unappetizing layer of seeds gathered at the bottom of the glass.
Since it doesn't get any better than mid-August when it comes to heirloom tomatoes, I opted for a salad that featured a nice assortment of varieties along with crescenza cheese and crispy breadcrumbs — an interesting contrast to the usual softness. Cameron, as usual, opted for the raw fish; the selection was paper-thin slices of sockeye salmon with avocado.
None of the newer main dishes caught my eye, so I chose the standby bavette, served with slow-roasted tomates, broccoli rabe, and an oddly refreshing horseradish sauce. Cameron's halibut was perfectly prepared, but its corn-puree sauce was a touch strange-tasting.
To finsh the evening, we ordered the cheese plate: a perfectly ripe Roquefort served with marcona almonds and slivers of dates. The server also brought us an order of crepes with sauteed plums — presumably as an apology for her boss having lightly spritzed us with champagne earlier in the evening — served with a cardamom ice cream that I loved but Cameron studiously avoided.
All in all, we paid about $150, including tax and tip, for a thoroughly enjoyable dinner.
Range
842 Valencia Street
San Francisco, CA 94110
415.282.8283