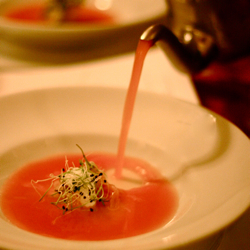 One of the hardest things about traveling is coming home to an empty fridge. Even back when we mostly shopped at the supermarket, this was one of the worst parts of any vacation. But now that we buy nearly all of our food at the farmers' market, we've added a level of complexity to the mix.
Luckily, we have a really nice Tuesday lunchtime farmers market at the Ferry Plaza; it's much smaller than the Saturday showplace, but there's just enough diversity to re-stock for a few midweek meals, especially if you hit up the indoor shops for meat and bread. So, our 100% local meal this week for One Local Summer included a Range Brothers pork chop dusted in Eatwell rosemary salt, Eduardo's fusilli with Spring Hill butter, and some Iacopi Farms romano beans… a simple slice of summer.
But honestly, the foods we really wanted to be eating were back in New Orleans, where we spent the last week. Perhaps the feast of the week was our Spirited Dinner at Restaurant August, where chef John Besh created a mostly local, entirely seasonal menu with cocktail pairings by Charlotte Voisey, brand ambassador for Hendricks Gin.
Here's the menu (and links to photos):
It was all quite lovely (well, perhaps excepting the dessert, which was much more interesting in concept than in execution) and it was fun to experience locavore life in another part of the country, where asparagus and favas are still in season, and crayfish — not crab — are fresh and plentiful. But honestly, as delicious as the high-falutin' food was, it wasn't very novel. Other than those crayfish, there wasn't much that couldn't have made an appearance at a Bay Area restaurant of August's caliber. No, the true treasures of New Orleans' local food scene were neither organic or sustainable.

The Crescent City's culinary delights are the stuff of legend. Even if you've never been to New Orleans, you've probably read of the glories of beignets and chicory coffee at Cafe du Monde. I'm sure you've heard of Central Grocery's legendary muffulettas, and the po-boys at places like Mother's or Johnny's. You might even have seen photos of Hansen's Sno-Bliz, the world's most perfect frozen delights, the kind of snow cones they might serve in heaven.
But as lovely as these made-to-order treats are, even the local stuff that comes in bottles and boxes tastes better in N'awlins than whatever it is you have at home. And nobody ever tells you about them! So let me be the first to suggest — nay, insist — that when you visit New Orleans, don't miss out on some local treasures that can actually make the trip home with you.
Closest to my heart are Zapp's — a brand of locally made potato chips that taste like a cross between Kettle Chips and manna from heaven. (And I bet you can't find flavors like Spicy Cajun Craw-Tater, Dill Gator-Tater, or Spicy Creole Tomato back home.) Wash your chips down with a bottle of Abita amber beer, or a Barq's root beer in the painted-label bottle… both of which taste much better in Louisiana than they do when you happen to run across them elsewhere.
Later, when your appetite comes back, make sure to find a Hubig's pie or two. The closest analog is those Hostess 'fruit pies' you might have eaten as a kid, but they're so much better that the comparison is entirely inadequate. No high-fructose corn syrup or hydrogenated soybean oil here, just beef fat and pure southern sugar. Their fruit fillings are made from actual fruit and sugar, not chemicals and essences. Tuck one in your carry-on bag for the flight home, and you'll be the envy of your seat mates for sure.
More New Orleans photos and notes on Flickr…
Spirited Dinner: At restaurant August, with cocktail pairings
Central Grocery: Muffulettas, Abita amber, and Zapp's chps
Cafe du Monde: Beignets and chicory coffee
Mother's: Ferdi po-boy (ham and 'debris')
Johnny's Po-Boys: Crawfish po'boys, Cajun sausage po'boys, Barq's root beer
Hansen's Sno-Bliz: The best snow-cone treats in the cutest little shack
More New Orleans photos: Emeril's, Tales sessions, Quarter scenery, and more