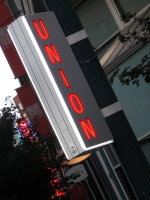 Even if you don't live in Seattle, you've probably read plenty about Union, a restaurant that crops up on all the "best-of" lists in glossy food mags. But unlike some hotspots that offer more style than substance, Union actually has the culinary cred to remain a fixture in the fickle downtown scene.
Union splashed onto the foodie radar in fall 2003 by besting the city's "25 for $25″ promotion with a deal of their own. Just like at the official 25 restaurants, you'd pay just $25 for your November meal at Union. But instead of a cheap appetizer, a meager entree, and a dessert you didn't want, you'd actually get a full-blown seven-course tasting menu. Needless to say, this made a huge impression on many of our foodie friends — especially when Union reprised the offer in the spring.
Union quickly became known as the place to go for high-end food without the high-end pricetag, a place to enjoy an entire evening's worth of small, perfectly-exectuted tastes, along with exquisitely paired flights of wine. Even when the $25 deal ended, I think we were paying somewhere in the $75 range for dinner with sommelier-selected wines… an unbeliveable steal of a deal, even in affordable Seattle.
Like all good things, it wouldn't last. Word 'round the campfire was that Chef Ethan Stowell became frustrated with diners ignoring the a-la-carte side of his menu in favor of the tastings. First the wine pairings disappeared, then the tasting menu shrank to a tiny footnote, eventually disappearing all together. (It's still available by request for those who ask, but I presume few folks do.) Union's reinvented itself with a bar menu that would knock the socks off any other restaurant's main offerings, and it's paying off: The average age of the clientele has taken a noticable dip, and the buzz near the front windows draws in more customers to fill the main dining room.
The whole place was hopping when we gathered eight of our nearest & dearest on Thursday night for dinner. We'd asked Chef Stowell to return to the days of the tasting menu, and sat at the table just outside the kitchen's pass. (Pics — such as they are — can be seen here.)
We started out with a salad of tomino cheese, stacked with roasted beets and arugula. Served with a slightly sparkling 2005 Furst Muller-Thurgau, the earthy beets made a convert out of Richard, who just moments before professed his loathing for them. It reminded me of the many times at Union that I've eaten things I "knew" I didn't like, only to discover that I found them much more interesting — and often delicious — when Chef Stowell made them.
Speaking of which… the second course, grilled sardines, came served atop a panzanella that featured tiny breadcubes and baby tomatoes. I'm not a huge fan of sardines, or oily fish in general, but I've eaten them plenty of times at Union. I still don't think I'd go out of my way to order them, but that's precisely why I love tasting menus. These sardines were quite pungent, but in a flavorful way, and the fresh-crunchy panzanella served as an excellent foil for the fishiness, as did the 2004 Renard Rousanne from the Santa Ynez Valley.
My favorite dish of the evening came next. A signature soup presentation at Union, we were brought bowls with just the garnish — in this case, a poached duck egg and a drizzle of pumpkinseed oil — to which our waiters then added creamy kohlrabi soup. I thought the accompanying 2005 Qupe Chardonnay "Bien Nacidio Y Block" was a touch too oaky-acid for this unctuous soup, but plenty of my friends disagreed. There was no argument that the kohlrabi puree was sublime, as so many of Chef Stowell's soup courses have always been.
Many at the table felt that the following course of grilled branzino with cranberry beans and parsley pesto was the highlight of the evening. Smoky and perfectly cooked, the firm-fleshed fish worked well with its sides, but I thought the beans were a touch bland. (I think I'm spoiled by all the good heirloom beans we've been coooking at home. Even fresh beans can't compare for me, anymore.) I have no strong memory of the accompanying 2005 Rene Noel Legrand Samur-Champigny "Les Lizieres", but I'm sure one of my cohorts will step up in the comments section and remind me!
Given the love affair that Northwest chefs have with Wagyu beef, you'd think they'd do a better job of it, on the whole. I'm not the first person to remark that choosing a soft-textured cut like filet mignon when you're paying for Kobe-style beef is the culinary equivalent of wearing suspenders and a belt: unnecessary and rather foolish. Luckily, this is a principle that Union well understands: Our next course of sirloin steak married the softness of Wagyu with the beefiness of a heartier cut, striking a perfect balance. Cooked on the rare side of medium-rare with a stunning crust, served atop potato puree, Thumbelina carrots and a thyme-heavy red-wine sauce, this was a course for the carnivorous. The 2003 Waters Cabernet Sauvignon set off the heartiness of the beef and the richness of the sauce.
Another Union favorite: pot de creme for dessert. Ours was a chocolate-espresso version served in a demi-tasse, topped with whipped cream and a shaving of cacao nibs mimicking cinnamon sprinkes. With a spot of 1999 Quinta de la Rosa late-bottled port, we had our after-dinner drinks and our 'coffee' all at once. Our favorite server (and oft-times maitre d') Hans took great care of us, and chose an assortment of wines to complement our meal. In many ways, it felt like old times.
Cameron adds: I hadn't had kohlrabi in at least 25 years and hadn't missed it much, but one of Chef Stowell's X-Men powers is an amazing facility with purees, liquids, custards, and creams. It's like he's got an extra "texture" sense that the rest of us lack. I also had to smile when the sardines and panzanella course arrived. Anita avoids strongly-flavored fish, and I rank panzanella as one of my least-favorite uses for bread. And yet in the hands of Chef Stowell, Anita found a sardine that she could love and I was able to make peace with bread salad.
Union
1400 First Avenue
Seattle, WA 98101
206.838.8000