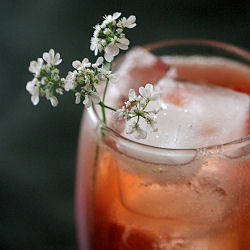 In case you've wondered why I'm blogging my heart out — especially after such a prolonged drought — I'm semi-covertly participating in National Blog Posting Month (better known as NaBloPoMo), a writing exercise that spun off from National Novel Writing Month.
I haven't officially signed up, but I've challenged myself to post every day this month, both to clear out the backlog of posts and photos lingering in the drafts folder, and to practice a little self-discipline. I figure if I can post seven days a week for 30 days, then the old three-times-a-week schedule will seem like a walk in the park.
—-
Way the heck back in August, I accepted a very interesting, but very unorthodox freelance assignment. Jean Aw — the brains behind NOTCOT and Liqurious — hired me for a combination recipe development / cocktail photography gig. That alone is pretty out there; most jobs are one or the other. But the angle of the job made it even more bizarre: On a dare, we agreed to come up with three cocktails based on yogurt flavors… although mercifully not containing any actual yogurt. (You can read the incredibly funny story behind it in Jean's own words.)
The cocktails finally made their debut on NOTCOT last week. Alas, it's too late in the year to try out my favorite of the three: the Sweet Summer Revival (fresh peach, green-tea-infused vodka, and Grand Marnier), but we'll bring it back around for a sample in 2009. And already the weather seems a little too dreary for the citrusy Bee Cool (honey, lemon, plum brandy, creme de violette, and lavender soda).
But the third drink in the set seems more seasonally appropriate. The White Flower Bramble takes its inspiration from Rachel's berry-jasmine flavor called "Glow". It's based on a popular English drink that marries blackberry liqueur and gin, but replaces the usual simple syrup with St-Germain liqueur for a floral touch. We've still got raspberries at our farmers market, but if they're gone where you are, fresh cranberries could easily take their place.
White Flower Bramble
1-1/2 oz No. 209 gin
3/4 oz St-Germain elderflower liqueur
3/4 oz fresh lemon juice
berry soda (such as Izze blackberry or Fizzy Lizzy cranberry)
fresh raspberries or cranberries
Shake the gin/vodka, elderflower liqueur, and lemon juice with ice. Strain into an ice-filled highball or cooler glass. Add 2-3 berries, and top with blackberry soda. Garnish with an edible white flower, such as chamomile or lemon verbena.