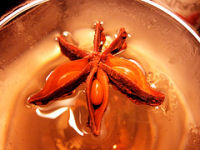 Since tonight marks the beginning of Sukkot and the Chinese Autumn Moon festival, I suppose it's futile to pretend that it's not yet fall. Even though we live in a place where we don't really see the leaves falling from the trees, all this rain makes it pretty obvious that Indian Summer is, at last, behind us.
This Audrey Saunders cocktail — a favorite of our Seattle crew — requires a bit of shopping, but the end result is well worth it. If you try it, I suspect that you'll enjoy making it well into the holiday season.
Falling Leaves
1 oz. Clear Creek pear eau de vie
2 oz. Trimbach reisling
1/4 oz. honey syrup (equal parts of honey and water)
1/2 oz. Orange curacao
dash Peychaud bitters
Measure all ingredients into cocktail shaker, add ice, and shake well. Strain into a cocktail glass, and garnish with a whole piece of star anise.