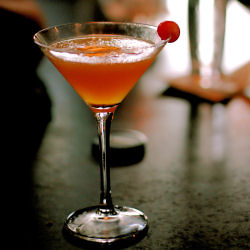 As our book club sips its merry way around the City, we're discovering quite a few cocktails that we really like. Try as we might to work up enthusiasm for the drinks we've intended to sample, more often than not we actually become quite captivated by another option on the menu.
Such was life the other night at the bar at Range, where we'd gone to sample the Green Lantern, their contribution to Food & Wine Cocktails 2008. It's an interesting enough drink, and if you hadn't told me the lurid green came from muddled kiwifruit, I probably would have been stumped.
But the highlight of the evening was two pleasant surprises behind the bar: A newly-shorn Carlos Yturria — who, much to everyone's pleasure has taken the Wednesday shift alongside the ever-fabulous Brooke — and the reappearance of a summertime favorite on the drinks list. The stalwart known as the Sungold Zinger has graced Range's warm-weather cocktail menu since the restaurant's earliest days, and its fan club is legion.
Jen ordered one, served by the man who invented it. Then Fatemeh followed, and then me, and then Cameron, and pretty soon there was a line down the bar of these sharp-looking, vibrant-orange cocktails. Well-balanced, tangy but not too tart, it's a simple but beguiling combination… the kind of drink you wonder why nobody invented before. Everyone who tasted it had to have one of their own; we were totally smitten. And, apparently, we're not alone: the Sungold Zinger was chosen one of the 20 best cocktails in America by GQ magazine.
It's a simple enough recipe to make at home, especially when Sungold tomatoes are at their peak, as they are right now. But if you're anywhere near Range — especially on a Wednesday night when Carlos is around — drop in for a little sip of summer sunshine.
Sungold Zinger
3-4 Sungold tomatoes
Pinch of sea salt
1/2 oz agave syrup
1/2 oz lemon juice
1-1/2 oz 209 gin
Muddle the tomatoes, salt, and syrup together in a mixing glass. Add lemon juice and gin, and shake well with ice. Strain into a chilled cocktail glass, and garnish with another tomato on the rim.
Variation: Replace the agave syrup with an equal amount of St-Germain elderflower liqueur, a nice alternative if you want a little floral hit.
(leftmost filmstrip photo courtesy of book-club member *fatemeh* via CreativeCommons)