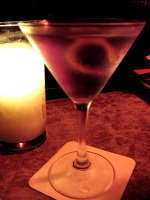 Both of us made it home safely to San Francisco from our various wanderings last week. Words can't describe how lovely it was to sleep in our bed and cuddle with the dogs.
But, in this case, "home" has an alternate meaning. This week, we're making a pass through Seattle — our second hometown — en route to a wedding near Portland. As is our custom, we headed straight from the rental-car lot to the Zig Zag Cafe to visit our friend Murray. And as soon as we walked in the door and drank in the pink-tinged light, felt the coziness of the low ceiling envelop us, and caught a smile from behind the bar, I felt my stress level drop a dozen notches. It's such a cliche… but it's true: Zig Zag feels like home.
We'd brought Murray a fresh bottle of Carpano Antica, so of course he started us off with little tastes, both of the "king of vermouths" (as it's known, probably only by its PR agent and people who read their fluff) as well as the two other hard-to-find ingredients that the Zig Zag boys are using to make one hell of a top-shelf Manhattan: Rittenhouse bonded rye, and a new German aromatic bitters called Bitter Truth. The Antica is a lovely sipping vermouth all on its own, with a complexity that makes you understand why folks went to the trouble of resurrecting it. It's also got a stunning packaging, with a wine-bottle-shaped profile and a gorgeous duotone label. The Bitter Truth bitters lay on the cloves and other sweet spices with a heavy hand — just the way I like it. Cameron couldn't resist trying the complete cocktail after tasting the components.
Before I had a chance to think much about my thirst-quenching needs, Murray brought out another bottle with a similarly gorgeous label, this time a Japanese creme violette called Hermes Violet — a gift from an admirer in Tokyo, ooh la la. I'd read about violet-flavored liqueuers in cocktail books — Creme Yvette and similar brands were the original third flavor in the Aviation — but for the most part they're incredibly difficult to find. I'd never even seen a bottle, much less tasted it.
Unsurprisingly, the sweet-syrupy deep-purple-hued concoction tastes just like old-fashoned violet gum or pastilles. Murray made me a "sample" of a martini he's been serving: Boodles gin and the Hermes Violet, with a lemon twist… oh my. Faintly lavender colored and absolutely subtle at first, it became sweeter and less floral — but no less interesting — as it warmed. This is my kind of cocktail…