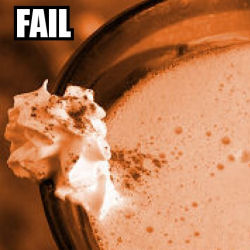 We've already written about a new cocktail this week, so I thought I'd answer a question that arrived this morning. I'm guessing there are others in the same boat:
I'm having a turkey day get-together and wanted an appropriate drink. I'd like something I can serve in a martini glass, fancy shmancy cocktail thing. A guest suggested, um, I can barely type this — pumpkin pie martini — and I immediately had to shoot that down.

Help!
- Pumpkin-Averse Party Instigator
Dear PAPI:
What is it with the onslaught of pumpkin drinks this year? I mean, I love me some pumpkin pie, but …gah! Leave the whipped-cream garnish for the dessert table, please.
Thankfully, there are plenty of festive drinks that fit the bill for Thanksgiving that do not involve canned squash. Two of our favorite options from the Drink of the Week archives would be perfect for your holiday bash. They're both certified crowd-pleasers, full of holiday flavors, and relatively low on the booze — a good idea at parties so casual drinkers don't end up face down in the cranberry sauce. Best of all, you should be able to find all of the ingredients at your local Beverages & More, or any other well-stocked liquor store.
Have a happy Thanksgiving, and do let us know how it goes!
- Anita & Cameron
—-
Oh, Henry!
- Originally blogged 11/23/07 — click for photos and details
1-1/2 oz bourbon
1-1/2 oz spicy ginger ale (we like Blenheim)
3/4 oz Benedictine
Stir all ingredients in an ice-filled mixing glass, and strain into a cocktail glass. Garnish with a piece of star anise or an orange twist.
Now, I know a lot of casual drinkers might be wary of the bourbon. But be strong: A cocktail is like a dog — you can show no fear! I had three bourbon-haters begging me for the recipe at the last party we served these at. But do try to find Blenheim or another spicy ginger ale; Canada Dry and its ilk is too chemical-y and even the lovely Fever-Tree is too tame.
Make sure you grab Benedictine and not B&B (which is pre-mixed benedictine & brandy). The bottles look nearly identical and they're often shelved together.
—
Falling Leaves
- Originally blogged 10/6/06 — click for photo and details
1 oz Clear Creek pear eau de vie
– or substitute pear vodka; Clear Creek is tricky to find outside of the West Coast
2 oz Trimbach Riesling wine
1/4 oz honey syrup
– equal parts of honey and water, heated together and then cooled
1/2 oz Orange curacao (such as Cointreau)
a dash of bitters, preferrably Peychaud for the rusty color and spice
Measure all ingredients into cocktail shaker, add ice, and shake well. Strain into a cocktail glass, and garnish with a whole piece of star anise or a sage leaf.