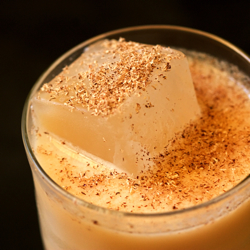 Red state or blue state, I have a funny feeling there will be many folks in a sickly-green state this morning. Democrats were perhaps a little too far into the celebratory Champagne last night, while Republicans were drowning their collective sorrows. (Not, we should hasten to add, that there's anything wrong with that.)
Thankfully for all of us, the medical community has fairly well established that the best cure for a hangover — campaign-induced or otherwise — is a nip of the same posion that got you in this sorry state. Even if you sleep 'til noon, it probably seems a little too early to pop another bottle of bubbly, or mix up anything complicated. But a Brandy Milk Punch… that you can make with one eye shut and the other just barely open.
It's a simple enough concoction, and one that you can almost certainly make with ingredients you have around the house. Milk, brandy, simple syrup or sugar in a pinch… we're not going to be dogmatic here; It's rough medicine, after all, not a mixology contest. We've even been known to keep agave nectar on hand for those times we're too lazy or hung over to make simple syrup. Anyway… The milk gets a little protein and fat in your system, good enough to tide you over until you're feeling well enough to crawl outside in search of hash browns.
I know nobody's in the mood for a history lesson, but in case you need a referral: Most folks trace the Brandy Milk Punch's roots — or at the very least, its popularity — to New Orleans, a city that certainly knows more than a bit about surviving the morning after.
Brandy Milk Punch
2 oz brandy
1/2 oz simple sugar (or 1/2 tsp sugar)
whole milk
nutmeg
In a tall glass or double Old Fashioned glass, stir the sugar and brandy together to dissolve. Add ice cubes to fill the glass to the rim, then top with milk. Stir gently to combine, then top with grated nutmeg.