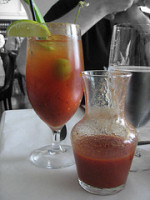 Not that any of our regular readers will be overindulging this weekend… but just in case you find yourself in need of a wee "hair of the dog" after late nights and too much holiday cheer, here's a recipe for a classic morning-after tipple to put you back to rights.
If you're feeling too fuzzy to make your own tomahhhto juice, feel free to substitute V-8 or another flavorful store-bought brand. But juicing your own makes for a crisp, tomatoey taste you can't get from commercial stuff, and a pleasant viscosity that helps keep all the seasonings afloat.
Need another excuse to whip up a Bloody Mary? Matt gives you 10 of them, fresh from the archives.
Slightly Fancy Bloody Mary
Makes 3-4

1 (28-ounce) can whole peeled tomatoes in juice (preferably Muir Glen)
1T Worcestershire sauce
2T freshly squeezed lemon juice
6-8 ounces vodka
Tabasco sauce
Grated horseradish*
Cajun seasoning salt, such as Tony Chachere's (or celery salt, or garlic salt)
Lemon wedges, celery hearts, green olives
Process tomatoes and their juice in a food processor. Strain the puree through a coarse sieve into a non-metallic container, stirring and pushing the puree through the seive until you're left with just seeds and about 1/4 cup of dryish pulp, which you can discard. You'll end up with a generous 2 cups of thick tomato juice. Add the Worcestershire sauce and lemon juice to the seived juice, and refrigerate at least 1 hour, until well chilled.
In a highball glass, stir together 2 ounces vodka, 1/4 to 1/2 teaspoon horseradish, a generous pinch of seasoning salt, and Tabasco sauce to taste (start with 3 drops). Fill the glass 2/3 full with ice and add 6 ounces of the tomato juice mixture. Taste and adjust seasonings, if necessary. Garnish each drink with a lemon wedge and a celery heart, and olives if desired.
*Either fresh-grated from a horseradish root, or bottled horseradish without any creamy additives; "prepared horseradish" will make the drink cloudy and slick.