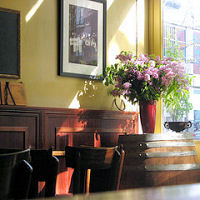 Seattle must have missed us, because she tucked away her raincoat and put on her cutest spring dress for our recent three-day-weekend trip. Not that we would have cared if it had poured rain for 72 straight hours. Well, maybe a little. But the sunshine rounded out an amazing trifecta of food, friends, and fantastic weather.
As soon as we checked in at the hotel, we headed over to 'Seattle Customs and Immigration', better known as the Zig Zag Cafe. Anita has already posted about that stop, but I'll just add that the joint was as packed as we've ever seen it. The revival of the cocktail and a couple of years of steady national press, including a spot for Murray on Playboy's Top 10 American Bartenders list, have alerted the rest of the world to the magic happening there.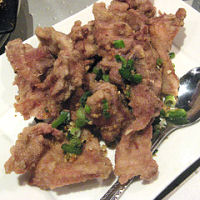 We usually keep to ourselves on our first night in Jet City, but we weren't surprised to run into several friends at the Zig Zag, including Rocky (a.k.a. Old Two Livers). When the lights went on and the chairs went up on the tables, we followed Rocky to The Purple Dot in the International District. The menu at the Purple Dot reads like a description of a catering accident at the United Nations, and we took full advantage, ordering beef internal delicacies (belly, tendon, and tripe), soup noodles with beef and fish balls, beef curry, spaghetti with ham and chicken, and salt-and-pepper pork ribs. This is stuff that's meant to be eaten at 3am with a serious load on, but I'd go back for those ribs at any time of day or night.
Dawn's early light made way too much noise on Saturday morning, accompanied by a call at 7:30am from our remodel contractor spouting incomprehensible (and ultimately inessential) gibberish. Seeing round out of one eye and square out of the other, we shaped up as best we could and set course for the Steelhead Diner by way of the Daily Dozen Donut Company at Pike Place Market.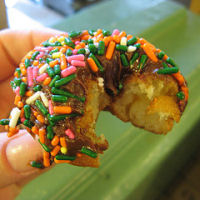 We figured that a mixed dozen baby doughnuts would be essential sustenance for a wait for brunch at the Steelhead, as it was close to noon on a bee-yoo-tifful Saturday. There was no line, but we killed some time snarfing doughnuts and replenishing the world's stock of pictures of the Market's famous sign. As it turned out, that bag of pastry would be the best thing that we'd eat that morning.
Despite a promising menu packed with foodstuffs from local purveyors, the half-empty Steelhead took nearly 45 minutes to deliver disappointment on white plates. The fish portion of my fish and chips was pretty good, but the chips absolutely sucked. The whole plate cost $16, and they didn't even put bourbon in it or anything. Anita's eggs Ellenburg — a Sysco-style chicken-fried steak topped with (broken!) fried eggs and a terrible sausage gravy — was stunningly bad.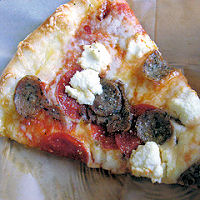 Salvation lay only a couple of hours away. When the mid-afternoon turned peckish, we decided to visit our friend Jason at his 'office': Pagliacci Pizzeria in Lower Queen Anne. We ordered a couple of slices, sampled the monthly special 'za (Portabello Primo: yum!), and re-acquainted ourselves with the sorely missed Pagliaccio salad.
After a quick stop at the hotel to freshen up, we met a crew of friends for drinks at the stylish, strikingly beautiful Vessel. Read Anita's review and go now: This winning combination of smart, solid cocktails, tasty nibbles, and attentive, welcoming service is already drawing crowds.
From Vessel, we taxi-ed over to Tavolata, a new Belltown Italian venture from Union superchef Ethan Stowell. With a little help from a friendly kitchen, our posse of eight serious eaters managed to sample almost the entire menu. It was all very, very good, right down to the lemon zeppole for dessert. (How can you argue with a day that begins and ends with doughnuts?)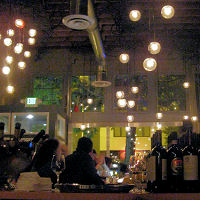 Two weeks later, Anita is still dreaming about this meal. Ethan's crew is making most of their pasta from scratch in a basement workroom filled with flour-grinders, dough-extruders, and restaurant-sized rollers. And, while the secondi are glorious — both the Fiorentina-style T-bone and the double-cut pork chop are among the best meat dishes of the year so far — the pasta is amazing and totally different than anything else in town. Out of a near-dozen options, we sampled eight and there wasn't a clinker in the bunch, from familiar standbys like a heart-stoppingly good rigatoni in tomato sauce to more-adventurous recipes like gnocchi with bitter greens.
Mind you, this was after we'd eaten our fill of gorgeous starters like cork-shaped fried polenta with bagna cauda, asparagus and fried duck egg topped with shaved Parmesan, octopus and bean salad (which will win over tentacle haters), and house-made mozzarella cheese served with a hazlenut-butter crostino. And they serve all of this gorgeous fare until 1am daily — sure beats the pants off of Beth's.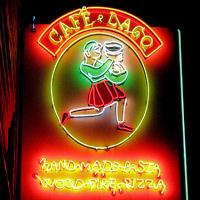 One of the pleasant hazards of visiting our second home city is that we have a long list of ways to complete the sentence, "A visit to Seattle wouldn't be complete without…" Sunday morning, the Mad Libs answer was, "brunch at Cafe Campagne with friends: ouefs en meurette, ouefs en cocotte, bloody marys, and bowls of cafe au lait." We filled in another blank later that day with "…pizza and pasta at Cafe Lago," with Tea and Carla.
Our last day was a bit of a struggle, food-wise. Breakfast: indifferent ouefs plats (but fabulous conversation and to-die-for morning light) at Le Pichet. Lunch: Lots of laughter (and friendly staff) at Bernard's on Seneca, a "morbid curiosity" favorite as much for its "Germans storming the castle" decor as for the surreal food.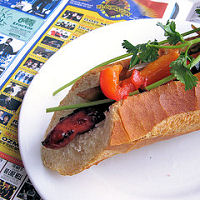 The lone bright spot for our tastebuds on Monday was a pint of cream ale at Hale's Ales. We knew better than to try and eat at the pub, and decided to grab a pre-flight late afternoon snack at Baguette Box as we passed through lower Cap Hill. Can we say it? We are completely over this place. Every time we go, poor execution torpedoes a nifty "bahn mi-goes-global" sandwich-shop concept. And they're always out of the first two things I want to eat… argh.
The rain began to fall as we drove south to the airport, and the droplets obscured the glimpses that we were catching of the skirts of Rainier. The distant mountain just barely peeked through the haze that erases her enormous presence even when the day seems clear and bright. We waved and said goodbye. Maybe she'd come out for our next visit — one of the many dear friends that we look forward to seeing again.
ps: You can see photos from all 15(!) food and drink stops in our Seattle Collection.
Purple Dot Cafe
515 Maynard Avenue South
Seattle, WA 98104
206 622-0288
Daily Dozen Donut Company
93 Pike Street (Pike Place Market)
Seattle, WA 98101
206 467-7769
Steelhead Diner
95 Pine Street
Seattle, WA 98101
206 625-0129
Pagliacci Pizzeria
550 Queen Anne Avenue North
Seattle, WA 98109
206 726-1717
Tavolata
2323 Second Avenue
Seattle, WA 98121
206 838-8008
Cafe Campagne
1600 Post Alley
Seattle, WA 98101
206 728-2233
Cafe Lago
2305 24th Avenue East
Seattle, WA 98112
206 329-8005
Le Pichet
1933 First Avenue
Seattle, WA 98101
206 256-1499
Bernard's on Seneca
315 Seneca Street
Seattle, WA 98101
206 623-5110
Hale's Ales Pub
4301 Leary Way NW
Seattle, WA 98107
206 782-0737
Baguette Box
1203 Pine Street
Seattle, WA 98101
206 332-0220