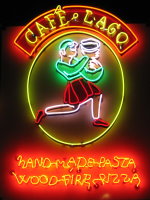 The last few times we've come back to Seattle, we've filled our schedules with favorites, but somehow managed to leave Cafe Lago out of the mix — a crying shame, given how much we love the place, and what a huge place it occupied in our culinary life when we lived nearby. (Full disclosure: We've become friends with the chef-owners, Carla and Jordi… but we were fans first and foremost.)
As we took our seat near the pizza oven, we glanced at the menu full of all our old favorites: antipasti, handmade pastas, salsiccia pizza, grilled sirloin with shoestring fries… sigh. I'm sure it was a combination of exhaustion and sentiment, but I actually caught myself tearing up a little.
We sat back with a couple of cocktails, and — after a brief flirtation with trying something new — ordered what can only be described as "the usual": Caesar salad and pizza for Cameron, bleu cheese salad and fettucine with meatballs for me. Sure, there were some changes, but all for the better. "My" salad now includes a drizzle of balsamic vinegar, which helps cut the salty-creaminess of the bleu cheese dressing. And the special pizza — topped with marinara sauce, fresh mozzarella, fresh tomatoes and basil — served as a nice riff on the menu's usual Margherita.
We marveled again at how continues to Lago neatly bridge the gap between neighborhood eatery and fine dining. One of the two tables behind ours was occupied by a couple in jeans and T-shirts, another by an elegantly attired pair who might have been headed to the theatre. Service, as always, was perfect: Attentive without smothering, helpful and gracious. We headed back to our hotel content and just a touch homesick, happy to have spent the evening with an old friend.
Cafe Lago
2305 E. 24th Avenue
Seattle, WA 98112
206.329.8005