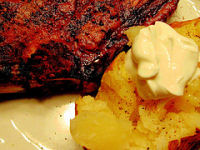 Those of you who visit (or live in) Los Angeles have probably driven past one of the three Clearman's North Woods Inn restaurants. They're pretty hard to miss, looking for all the world like a giant log cabin, complete with "snow" on the roof and "icicles" hanging from the eaves. Inside, the rustique effect continues with stained-glass lamps, taxidermy specimens, and bordello-style "art" on the walls.
Once upon a time — in fact, until quite recently — the cocktail waitresses even dressed up in skimpy frontier barmaid costumes, complete with red-plaid shrugs and miniskirts short enough to show off their frilly underpants. The waiters still wear lumberjack outfits right out of Monty Python, with red-plaid vests, black pants, and arm garters. (No hats with ear flaps, alas.)
My mom and dad have been going to Clearman's for more than 40 years, since before they were married. When we sisters were kids, it was one of the first nice-ish restaurants we ever went to. As you might expect from the decor, the menu runs the gamut from steak to steak, with a few minor detours into fried chicken and kabobs. Before your main course arrives, you always get a pair of salads — a red cabbage slaw and iceberg with blue cheese dressing — and artery-clogging cheesetoast, all served family style. And, of course, every steak comes with a baked potato as big as your head, groaning with fixin's.
My middle sister's the only family member who lives in Southern California these days, so our visits to Clearman's are growing fewer and farther between. Truth be told, I don't think the food's as good as it once was. But we keep going, mostly because it's a sentimental favorite… and probably also because you've got to love a place with signs in the bar insisting that you throw your peanut shells on the floor. We're obviously not the only family that maintains a soft spot for the place, given that they sell their cheesetoast spread in almost every supermarket south of Santa Barbara.
Dad mentioned last week that he wanted us to make Clearman's-inspired red-cabbage slaw for dinner over the weekend, and we happily obliged. We went whole hog (or is that cow?) by adding — you guessed it — steaks, potatoes, and iceberg lettuce with bleu cheese dressing to the menu. We hunted the local markets for the cheese spread, but came up empty.
When we told Dad about our fruitless search, it took him about 10 seconds to find a recipe for the stuff online. (You now know where I inherited my strong Google-fu from.) I whipped up a quarter-batch, Mom slathered it on some sliced sourdough bread, and we popped it under the broiler. The end result wasn't bad — in fact, made with butter instead of the standard margarine, I think I like it even better than the original.
The red-cabbage slaw recipe comes from the L.A. Times, and we've made it regularly over the years. It's perfectly fine on its own, but it's even better mixed up with iceberg and blue-cheese salad.
"Just Like North Woods Inn's" Red Cabbage Slaw
1/2 head red cabbage
1/2 cup vegetable oil
1/2 cup + 1T red wine vinegar
3T sugar
4 tsp. salt
1 tsp. seasoned salt
1/4 tsp. black pepper
1/4 tsp. onion powder
Shred cabbage irregularly, with some coarse and some fine shreds. Combine other ingredients in a bowl (or shake together in a jar or bottle) and pour over the cabbage. Mix well and let stand, refrigerated, for at least a few hours, or over night.
Makes 6-8 servings.