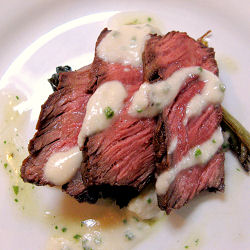 The Bay Area is blessed not only with an abundance of seasonal, local, sustainable food, but also with a cadre of chefs who have jumped on the locavore bandwagon with both feet. In fact, many of the places we eat on a regular basis have been actively supporting some of our favorite local farmers for even longer than we have.
A few weeks ago, we were chatting with our server at Range, marveling at how they always have such spectacular beef. (And pork, and fish… but I digress.) "Oh, yeah," he countered, "They get it from a local outfit called Prather Ranch."
Our Prather Boys? Well, that sure explains a lot. I mean, we knew Chef West bought much of his raw materials from local sources; our friend Steve sells him sacks of heirloom beans and hominy, after all. But, man, when we found out their little bovine secret, we felt like the chef and his entire staff had been holding out on us.
I kid. Mostly. But we did try to impress upon the waiter that this was information we could have used. Not that we could eat at Range any more than we already do and still manage to pay the mortgage, but now we can count our dinners there as locavore meals, too? Heck yeah, sign us up.
Our server explained that the chef wants to avoid the plague of a supplier-studded menu, preferring to let his food speak for itself without a litany of 'So-and-So Farms' and 'Those Guys Ranch' cluttering up the joint. Grudgingly, I concede the point — all that namedropping can be distracting.
But elsewhere, we're starting to see evidence of a happy medium.
Many newer entrants to the San Francisco restaurant scene fly their locavore flag high. Last week, we had the coincidental pleasure of dining at two of them: Nopa — a widely hailed anchor of its eponymous neighborhood's revival — and Fish & Farm, a newly minted upscale experiment on the dodgy fringes of the Tenderloin. Both dinners were delicious, interesting, and varied; both menus made clear statements of their chef's intention to support local farms, and listed their suppliers by name… not in the description of each dish, but in a separate section. The two restaurants couldn't have been less similar in most other ways: Decor, plating, service, vibe, pacing, wine program, and clientele; no cookie-cutter knockoffs here. Praise the Lord and pass the (locally pastured) pork chops.
Most locavores would be thrilled to have even two hot, newish restaurants to add to their repertoire. But it's better that that, by a mile. Nopa and Fish & Farm are just two members of a sizable and ever-growing subgenre of Northern California dining. Witness this extensive list of Bay Area chefs and restaurants committed to sourcing at least some of their ingredients locally (Tana from I [heart] Farms kicked it off two years ago, when "locavore" and "foodshed" were about as widely understood as quantum physics). Clamoring for more options? Pick up or download a copy of the newly published 'Buy Fresh, Buy Local' guide, highlighting area restaurants alongside farms, purveyors, and other member businesses.
And the list is growing all the time. Over at In Praise of Sardines, our friend Brett is documenting the process of designing, building, and otherwise launching his as-yet-unnamed Noe Valley restaurant. He describes his project as "seasonal, sustainable California fare with a Spanish flair". A cool concept, to be sure, but he could use your help with choosing a name. Some of the ideas he's tossing around have legs, but perhaps you've got a better one. Did I mention there's a list of prizes? And some great writing? Why are you still here? GO, make your mark on our locavore restaurant scene!






What, you're still here? Ok, ok… here's our Dark Days Challenge wrapup. Despite last week's unintended focus on dining out, we did still manage to make a number of locavore meals at home:
Pan chicken with mushroom sauce
- Marin Sun Farms chicken, homemade stock, Far West Fungi mushrooms
- orecchiete (non-local; exempt)
- Ella Bella Farm broccoli di ciccio
Steak and potatoes
- grilled Prather Ranch spencer steak
- mashed potatoes (Little's)
- red-leaf lettuce (Little's) with Point Reyes Bleu, Bariani olive oil, O cabernet vinegar
Friday night pasta
- a repeat of the salad above
- meat sauce made with Prather beef and pork, Mariquita tomatoes, Eatwell onions
- garlic bread: Clover Organic butter, Acme pain de mie heels, local garlic, local parsley
- linguine (non-local; exempt)