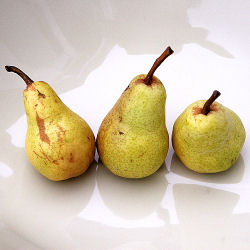 It's good to have friends among the landed gentry. In the warm suburbs beyond the fog-wrapped City limits, we're on friendly terms with plenty of folks who find themselves rolling in a bumper harvest of astonishing variety, looking for creative ways to eat everything before it goes off. Meanwhile, we slickers sit on our decks and wonder if the tomatoes are ever going to ripen, if the basil will survive another week, if the mint might yield enough leaves to make a couple of cocktails before the summer ends.
One of my favorite new friends calls herself a "tomato-ranchin' bum." Really, she's more like a pear-wrangler these days, burdened under so much fruit that she's resorted to using her harvest as dog toys and paperweights. The poor dear. Of course, we're green and yellow with envy: Cookie gets more fruit off her newly inherited pear tree in one day than we coaxed from our plum during in its entire (and entirely too short) season.
Knowing that we're suckers for home-grown fruit, Cookie loaded us up with a jar of eye-rollingly delicious homemade pear butter and an entire grocery bag full of her surplus pears. Not that I am complaining, mind you… not in the least. When we got home, we separated the as-yet-unripe specimens into their own bowl, to help preserve our bounty as long as possible. The ripest of the already-yellow bunch got scrubbed, split, cored, and cubed, then plunked into brandy. By the end of the second night, I could tell we'll have a winning tipple on our hands in short order. (It's not going to put Belle de Brillet out of business, but it definitely qualifies as Majestique de Marin already.)
Meanwhile, we're stuffing ourselves with a warm-weather riff on the salad we ate all last winter: Slivered pears — ripe but still crisp — tossed with spicy arugula (also from CookieCrumb Acres), some flavorful olive oil, and a touch of mild vinegar. Crumble a little Point Reyes Blue on top, 'cause we love it even if the cool kids don't. Crack a little pepper over the top, and there you have it: A perfect summer salad for those nights when you just can't bear another caprese.
Anyone else out there with surplus gourmet edibles? Call me — let's talk.