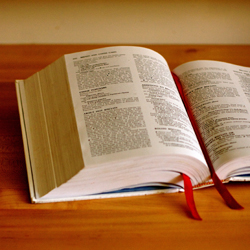 Knowledgeable guitarists say that tone is in the fingers. In other words, if I were to play Eddie Van Halen's guitar through his stage rig, I would sound like… Cameron playing Eddie Van Halen's guitar. I wouldn't look like him either, even though I can make all the wide-eyed guitar hero faces.
I'm beginning to think the same thing holds true for recipes. I made biscuits and sausage gravy for breakfast this morning, which I do every few weeks. I usually forget which recipe I use, so I spend about ten minutes combing through our cookbooks. I have tried biscuit recipes from the back of mix boxes (long ago), the Internet, and various cookbooks. But while they all have their own idiosyncrasies, when I make them they always taste like… well… my biscuits.
Today, I used the recipe from the Joy of Cooking, and I am here to tell you brothers and sisters that when it comes to basic American staples — particularly breakfast fixin's like waffles, French toast, and biscuits — that Rombauer gal has got it wired. The Joy recipes are simple, direct, and every bit as tasty as the complicated shenanigans you find elsewhere. Especially from that uptight bastard in the bow tie. I mean my god, Kimball: I am not acidulating milk and using two different types of flour at 9am on a Sunday morning, even if Martha herself is coming for breakfast.
Rolled Biscuits
adapted from the Joy of Cooking
1-3/4 cups sifted all-purpose flour (I don't bother sifting, and it's never hurt)
1/2 teaspoon salt
3 teaspoons double-acting baking powder
4 to 6 tablespoons chilled butter
(Joy says that you can use shortening, but… ew. Might try lard, though.)
3/4 cup milk
Preheat oven to 450 degrees. Whisk the dry ingredients together in a bowl and then cut in the butter. (Doing this by hand is picturesque, but a huge pain in the butt, especially on the first cup of coffee on a Sunday morning. Get smart and get out your food processor and metal blade. Dump in the dry ingredients, pulse them a couple of times, then drop in the chilled butter, which you've cut into 6-8 cubes. Pulse again 10 to 15 seconds, or until the mixture looks like crumbs.)
Add the milk and mix (or pulse) until you have wet dough. Turn the dough out on a floured surface, knead very gently 5 to 7 times, then roll out 3/4 inches thick and cut biscuits. Bake on an ungreased pan for 12 to 15 minutes, or until the tops are brown.