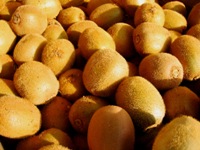 I was talking on the phone with Mom on Friday, and she asked me what my plans were for the weekend. "Are you going to the Farmers Market?"
"Yes!" I yelped, my voice faltering, surprised to find I was tearing up a little.
Call me nuts for getting all emotional about a freakin' farmers market, but I'm a creature of habit. Being out of town so much, combined with having too many house-related projects brewing all at once, has kept me away from my favorite Saturday haunt for an entire month. But I got it in my head that I was going this week, come hell or high water. Not that we have any less work to do this weekend — in fact, we have more — but first and foremost, I needed to be back in a place that makes me so illogically happy.
Yes, you're right: It's just an overpriced yuppie food scene. But it's also my little village, at least for a few hours every Saturday, and I take comfort in the same vendors being in the same place every week, selling a subtly shifting set of wares until it's time for their turn to rest for the season.
I get excited about the new crop of pea vines (already!?) and the deepening flavors of the apples and pears, puzzle at the miracle of tomatoes (still?!) in November, then look around to realize my favorite stall's yellow beets seem to have run their course for the season. Working in my hermetically sealed glass cube all week, the market's my weekly check-in with what's happening in the natural world.
Yesterday, the market was everything I needed it to be: Primavera was making their guajillo chilaquiles — my favorite among their rotating selection — and the sun was shining brightly off the bay, even at 8:30. We bought lots of great seasonal treats — I even found sunchokes for a fall salad I'm planning for this week — and saw all of our favorite farmers. The only hitch was that my camera ran out of batteries (and, for once, I had no spares!) after the second shot. D'oh! But it was fine, really. I needed to be in that place much more than I needed to take another dozen photos of brussels sprouts.
I know I should be sad that I'm going away again, but somehow, I'm not… at least right now. I know I'll be glad to return, and that's enough. As Steve said, consoling me as I sighed about missing the next two markets, "We'll all be here when you get back".