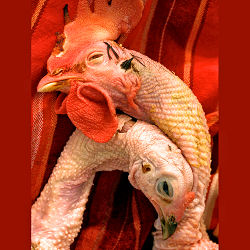 Have I mentioned lately how much I love the farmers who keep us fed? Even when I've done something utterly short-sighted, they managed to swoop in and save me from my own culinary stupidity.
Last week, Cameron came up from the basement and announced that somehow we'd run out of chicken stock. "That's impossible," I replied. "We had gallons…" A quick trip down the stairs showed that he was right. GULP!
Given that our source of pastured, local chickens dried up before Thanksgiving and that I didn't really do anything to prepare for this eventuality other than making my usual batches when the bone-bag filled up, I guess I am lucky to have made it this far into winter without running dry. But how could we survive months without a local source of one of our most necessary staples?
After three grocery stops, I finally managed to find local, organic chicken backs. Unfortunately, the Rosie chicken parts that Whole Foods carries come from factory organic farms — they're local, technically, and 'free range', technically, but they're not really my idea of humane, ethical meat. Unless I wanted to go without stock until spring, I was going to have to choose the lesser of various evils. I went home chickenless and annoyed at my lack of planning.
Two days later, whatever deity watches over locavores and other fools swooped in to save my bacon:
From: Cara, Marin Sun Farms
Subj: Range Hens & Roosters

Range hens and range roosters will be offered this weekend at our Farmer's Markets and Butcher Shop in Point Reyes Station on a first come first serve basis.
I could hardly believe my eyes: pastured chickens, in February? We'll take two, please. They weren't cheap — one rooster and one hen tapped out our protein budget for the week (and then some). But they were there, and that's all that mattered to me and the other folks who swarmed the stand as the market opened.
It turns out that these sturdy birds were no spring chickens [groan!]. Happy by-products of Marin Sun Farms' egg production, they're easily double the size of the birds we buy in the spring and summer.
If you think you're smugly immune to the grim realities of chicken butchery after a summer of dainty heads and tiny feet, you've got another thing coming when your supper greets you with an open-eyed stare. And cutting big birds into parts is no trauma-free event, either. Like most other creatures, chickens' bones and tendons firm up as they mature. The simple shears-and-boning-knife operation required to part out a 3-month-old fryer is a walk in the park compared with the hatchet-job required to take apart a full-grown rooster — and I have the torn-up hands to prove it.
Even if these birds hadn't been freakishly large, their long, narrow breasts would be a dead giveaway. Barely more than one serving of white meat per bird, these bony chests make an almost-comical sight paired with long, rangy legs. "They look like chickens that tried out for the basketball team," quipped Cameron.
Mature fowl are best cooked low and slow; one of the MSF farmers was telling folks at the stand that he'd made an exploratory batch of fried chicken, just to see, and… well, no surprise, he didn't recommend anything but the soup pot or a long, slow stew for any of these tough old birds. (See how many American idioms come from our agricultural roots?)
Of course, any grandma will tell you that modern factory chicken doesn't taste like it did in the olden days, and much of that has to do with the fact that today's chickens are slaughtered well before they're adolescent, much less geriatric. As early as the 1960s, full-fledged stewing chickens were hard enough to come by that even Julia was calling for a measly 2-1/2 to 3-pound fryer for her coq au vin.
Thankfully, we found a lovingly thorough recipe – avec un vrai coq — in our new copy of the River Cottage Meat Book, Hugh Fearnley-Whittingstall's ode to sustainable eating in all its carnivorous glory. "They might be scrawny and … on the tough side" says our man Hugh, "But with a diet comprising largely natural forage, by god they'd be tasty."
Not that I'd ever gainsay a meat maven like Mister F-W, but old-man rooster was definitely an acquired taste, even if you're used to the "more-chickeny" flavors of pastured meat. Don't get me wrong: The flavor it lent to the sauce was truly unparallelled — an unctuous, meaty taste that felt in all ways more like beef stew than anything poultry based. As for the meat itself, I liked it when I ate it in the small pieces that flecked the sauce, but the larger chunks were a tad too gamey for my girly palate. Cameron, however, gobbled his bowl while making little moaning noises, so chacun à son goût. For the leftovers, I shredded the meat and put it back in the sauce; served over pasta like a ragu, the flavor was perfect.
Oh, and the backs, wings, feet, heads, and other sundry bits made 12 glorious quarts of golden stock. Our freezer is chock-full of delicious homemade goodness once more. And if that's not true love, baby, I don't know what is.
Coq au Vin
– adapted from the River Cottage Meat Book
1 stewing chicken, ideally a farmyard rooster*
1/4 cup butter
1T olive oil
8 ounces pancetta or bacon, cut into large chunks
8 ounces onions, cut into quarters
1/3 cup all-purpose flour, seasoned with salt and pepper
4 oz brandy
2 cups red wine
2 cups chicken stock
bouquet garni of parsley stalks, bay leaf, and thyme
4 celery stalks, cut into 1-1/2-inch lengths
4 garlic cloves, smashed
2 cups canned chopped tomatoes
—
6 to 8 carrots, cut into 1-1/2-inch pieces
1/2 pound white button mushrooms, halved or quartered depending on size
4 to 8 ounces small onions (such as cippolini or pearl), peeled and trimmed
Preheat the oven to 250°F. Cut the chicken into 4 serving pieces, reserving the neck, back, and wingtips (and feet and head, if available) for stock. Heat the butter and oil in a large ovenproof casserole. Fry the bacon pieces in the butter/oil until browned, and remove to a plate with a slotted spoon. Lightly brown the onions in the same pan, and likewise remove them to the plate.
In a paper bag, shake the chicken pieces with the seasoned flour until coated, tapping them against the side of the bag to remove any excess. Brown the dredged chicken in the bacon-butter-oil, working in batches if necessary so as not to crowd the pan, and turning to brown all sides properly. If you've worked in batches, return all the chicken parts to the casserole. Pour the brandy over the chicken and (very, very carefully) flame it with a long-handled match. When the flames die down, remove the chicken to the plate with the onions and bacon.
Add the red wine to the casserole, scraping the bottom and sides of the pan to remove any stuck-on bits. Add the stock to the pan and heat to a simmer. Then return the bacon, onions, and chicken to the pan along with the herbs, celery, garlic, and tomatoes. Bring to a gentle simmer. Cover and cook in the oven for 2 to 2-1/2 hours (more like 1-1/2 hours for a younger chicken) until the meat is completely tender.
When you're within a half-hour of serving time, saute the mushrooms in a bit of olive oil. Please resist the temptation to salt them until they are browned and delicious — you will get a much firmer, tastier mushroom. Meanwhile, in a small frying pan, gently cook the carrots and onions in a shallow layer of water, turning them occasionally and removing them from the pan when they're just cooked through.
When the chicken is ready, check the consistency of the sauce. If you have a very tight-fitting casserole lid, and/or a wimpy chicken, you may need to reduce the liquid by as much as half of its volume. (Leave the chicken and vegetables in the covered casserole, and reduce the sauce in a separate pan.) Once your pan sauce is thick enough to coat the back of a spoon, put everything together — chicken, vegetables, mushrooms, and sauce — and bring back just to a gentle simmer.
Adjust seasonings to taste, and serve with your favorite mashed potatoes or herbed new potatoes.
* If no roosters are available, HF-W recommends substituting the legs, wings, neck, and giblets of a good free-range turkey, leaving the breast to be roasted another day.