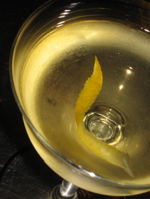 Editor's note: Over the next couple of months, we'll be delegating Drink of the Week duties to a few of our cocktailian friends from time to time, as our bar supplies and equipment are rather limited in our temporary space.

First behind the stick is our friend and neighbor Erik, a talented amateur mixologist who's currently working his way through the Savoy Cocktail Book, trying each drink in alphabetical order! Today, though, he shares the results of last night's Robert Burns-influenced experimentation.
I had an idea to drink a Scotch-related cocktail last night, in honor of Burns Night, and Audrey Saunders' Dreamy Dorini Smoking Martini was the first that occurred to me.
I composed the elements — 2 ounces of decent vodka, a couple drops of Henri Bardouin pastis, and a half an ounce of Jon, Mark and Robbo's "The Peaty One" Scotch — and stirred them together.
Nope.
I didn't like it.
I just kept thinking, this would have been better with vermouth instead of vodka. And how do I get this Band-Aid taste out of my mouth?
Maybe Islay-style malts just aren't my thing.
I hated to be boring and retro, but I stirred together a hard-to-beat classic cocktail that's even more fitting to the occasion.
Bobby Burns
1-1/2 oz. Italian Vermouth (I used Carpano Antica)
1-1/2 oz. Scotch whisky (I used Compass Box Asyla)
2 dashes Benedictine
Stir with ice and strain into a cocktail glass. Garnish with a lemon twist.