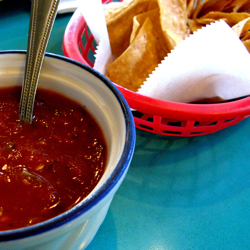 My Dark Days Challenge cohorts, please avert your eyes: With the exception of two or three breakfasts, there was absolutely nothing sustainable, local, or even organic about the way we spent our long Presidents Day weekend. Que lastima — we traded local for loco, spending a crazy four days eating nothing but Mexican food.
Since time was limited on Friday morning before work, we headed to an old standby. Los Jarritos has been the scene of more Sunday breakfasts than we can count, and one or two dinners over the years. The coffee is terrible, so stick with the Mexican chocolate, and the chilaquiles are limp and over-egged. But it's hard to complain too much about a place that serves homemade tortillas, and the service is always so adorably welcoming that we're more than a little forgiving of Jarritos' shortcomings.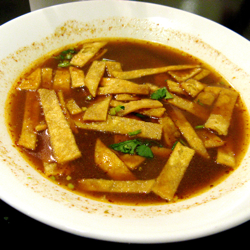 Maybe it's was a case of diminished expectations, but I have to say that my lunch at Frontera Fresco on the lower level of Macy's Union Square was not nearly the dreck-fest I was expecting after reading some early critiques. Yes, it's corporate chain food — think Wolfgang Puck Express goes to Mexico — but it's certainly no travesty.
It might be too strong to say that I enjoyed my meal, but I was served a thoroughly decent, well-garnished bowl of tortilla soup, and an unorthodox (but not unpleasant) chicken torta. I laughed out loud at the sandwich's sundried tomato garnish, and its lettuce seemed to be dressed in Good Seasons Zesty Italian. But everything else was in the ballpark: rich frijoles, tinga-style chicken, and a chunky slab of queso añejo. Don't get me wrong: It's not fabulous, and it's definitely not worth a special trip, but there are certainly worse ways to spend your $10 downtown. And I'd be downright ecstatic to find a Frontera Fresco branch in an airport.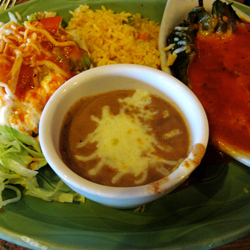 Friday afternoon, I hopped a southbound CalTrain after work. Cameron picked me up at Mountain View station and in just a few moments we were pulling into the parking lot of our favorite Mexican restaurant, Fiesta del Mar. Our friends Jason and Margaret introduced us to this fabulous place way back in the day — more than a decade ago, now — and we've been coming here religiously ever since. Sure it's crazy to drive an hour to go to dinner, but such is our devotion.
And we're not the only fans: Plaques on the wall attest to the restaurant's enduring popularity: They've been voted "Best Mexican Restaurant" by the local paper every year but one since the early 1990s. They're justly famous for their shrimp dishes — Cameron loves their Camarones Alex and the Camarones a la Diabla — but I love them for their great margaritas (El Jimador, rocks, salt… thanks!) and their unbattered chiles rellenos. There's almost always a line out the door, but the tables turn quickly and you won't regret the wait.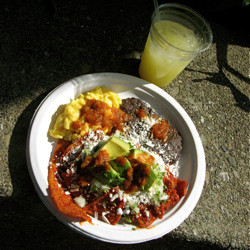 Saturday morning found us at our usual spot: The Ferry Plaza farmers market, and specifically the Primavera stand. Although this market favorite offers chilaquiles nearly every Saturday, they mix things up a little by varying the sauce; one week it's a green tomatillo-serrano blend, the next it's a tomato-chipotle salsa, and the next it might be a puree of guajillo chiles (as it was that weekend).
A plate of salsa-sauteed chips served with Cameron's all-time favorite soft-scrambled eggs and some pretty delicious black beans… ahh, brunchly perfection. Of course, we couldn't resist ordering a plate of tacos al pastor — and its perfect pairing, piña agua fresca. Weighted down by our mega-breakfast, we wandered our way around the market, vainly trying to work off our stuffedness while finishing our weekly shopping.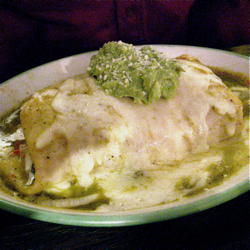 Not surprisingly, we weren't hungry again until dinnertime. After the sun set, we made our way to the Daly City border to check out a little hole-in-the-wall we'd heard good things about. Lisa's Mexican Restaurant looks like a biker bar from the outside, with its microscopic windows, spotlit sign, and ugly burglary bars facing Mission Street.
But when you step inside, you're entering another world. Every surface but the floor is covered with goofy stuff — photos of old Mexican movie stars, life-size parrots, oversized sombreros, and creepy paintings of big-eyed children. The overall effect is like dining inside some crazy abuela's closet, but somehow it feels cozy, not chaotic. The welcome is friendly, both from the staff and the other patrons. And the food…
Well, honestly, I don't want to get your hopes up. Lisa's is decidedly not gourmet, and it definitely isn't in the same league as Fiesta del Mar. But if you're a homesick Southern Californian pining for the cheesy combo-plates of your youth, Lisa's will fill your heart and belly in a way that you've never experienced north of the Grapevine. Their chile relleno sauce is just right (it's the kind with chunks of celery like you see absolutely everywhere in L.A.) and their crispy tacos are dynamite. The best thing we've had at Lisa's — and I am embarrassed to admit, we've been back almost every week since we discovered it – is their chile verde. Cameron likes to ask for it in their Lisa's Especial, a football-sized 'wet' burrito stuffed with everything a homesick Angeleño needs to feel right again.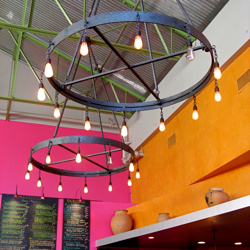 Sunday we crossed the bridge for brunch at our East Bay fave, Tacubaya. The spinoff of Temescal's oft-lauded Doña Tomás, this taqueria — tucked behind Sur La Table and Café Rouge on Berkeley's Fourth Street restaurant row — lures breakfasters into gorgeous skylit space decked out in tropical-fruit colors and natural wood surfaces. It's a neighborly place, albeit one with a very calculated and upscale vibe, and though the crowds come out in force, the line moves fast and there's never much of a wait for a table.
No matter what time of day we visit, we can never resist an order of churros y chocolate; other breakfast fare mostly starts and stops with so-so chilaquiles and decent variations on huevos, plus menudo on weekends. Like its O-Town sibling, Tacubaya bases its menu on local produce and sustainable meat.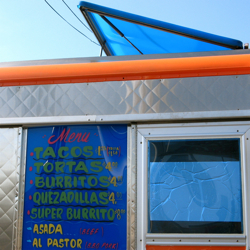 Later in the day, we took a long-overdue tour of Oakland's taco-truck scene. We used to love planning day-long taco crawls with our Seattle crew, and when we first moved back to San Francisco, we tried to get our new friends to follow suit. Various circumstances conspired against us — ranging from a surreal bout of foul weather to half the group catching one of those pandemic colds — and eventually we gave up trying to get everyone across the bay at the same time. But I'd kept my notes, adding a truck here or a cart there from time to time, and waited for the right day. And now that day had come.
We started out at the corner of 22nd and International, at a former A&W Drive-In that's now home to not one but two taco trucks. Tacos Sinaloa features the usual assortment of meats — carnitas, chorizo, carne asada, and such — ensconsed in the eater's choice of tacos, burritos, tortas and more. Across the parking lot, Mariscos Sinaloa offers all these plus fish tacos, tostadas de ceviche, and other seafood-based items. I opted for a taco full of deliciously meaty carnitas; Cameron had a muy sabroso shrimp taco from the other truck. Off to a good start, we ate our way up and down the boulevard, stopping at any truck where we saw more than two people in line. Our favorites: El Grullo's tacos al pastor, Tacos Guadalajara's shredded carnitas, and the cabeza at El Novillo in the shadow of Fruitvale BART.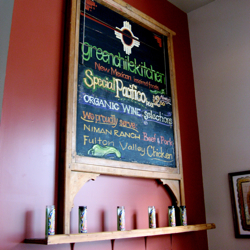 Monday is a hard day to find Mexican breakfast in the City; many family-run businesses take the day off after their weekend rush. We didn't want to repeat ourselves, so we headed to Green Chile Kitchen over in NoPa. It's the kind of storefront cafe you find in nearly every San Francisco neighborhood: Wood tables, tall windows, a chalkboard menu, and a tall counter where you place your order.
Sadly, the food's no better than average, and it's definitely Southwestern rather than Mexican. But they use quality ingredients (mostly organic produce, Niman Ranch meats, and Fulton Valley chicken) and there's good coffee, easy street parking, and a pleasant little vibe.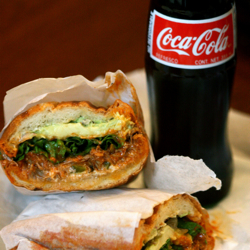 As we were leaving NoPa, the once-cloudy day turned sunny, so we grabbed the dogs and headed back to the Mission. There's nothing better on a bright winter afternoon than a lazy meander down the eastern stretch of 24th Street, where you can walk and shop for hours without hearing a single word of English. When we'd finally gotten our appetites back, Cameron entertained the pups while I popped into Tortas Los Picudos, a cheerful slice of chaos where they sell grilled Mexican sandwiches and licuados (which many shops translate as "milkshakes" although they're really more like smoothies).
Fillings at Los Picudos run the gamut from basic ham-and-American or turkey-and-Swiss to belly busters like the Cubana. A very distant relation to the medianoche you may be used to, Los Picudos' porcine homage to La Isla includes roast pork, ham, queso fresco, lettuce, jalapeños, mayonnaise, butter… and a foot-long hotdog! We wisely chose to split a spicy pulled-pork torta, and picked up a Mexican Coke at Casa Lucas on our way back up the block.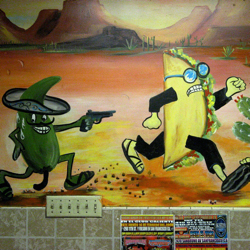 By the time we were hungry again, our options on a Monday night had diminished to a handful of late-night taquerias. Wanting to make sure we ended our weekend of gluttony on a high note, we popped down the hill to our nearby favorite, El Gran Taco Loco. Sandwiched in between a hard-liver bar and our local branch of Cole Hardware, Taco Loco has won our hearts despite its interrogation-room lighting, uncomfortable booths, and goofball murals.
We long ago discovered that the burritos and other semi-Americanized offerings at Taco Loco aren't much to write home about, but their tacos — and most specifically, their carnitas tacos — are a thing of beauty and a joy forever. (Or at least the next 4 to 6 hours.) Cameron's a huge fan of their birria, — a goaty, dark-chile-flavored soup that's good for whatever ails you on a Sunday morning. But for our last meal of the long weekend, we kept it simple: A carnitas super-taco for me, and a buche taco for the bald guy. It certainly wasn't the best meal of the bunch, but a late-night snack at our neighborhood favorite was definitely a fitting end to a gastronomical journey that spanned three area codes.
Los Jarritos
901 South Van Ness
San Francisco, CA 94110
415 648.8383
Frontera Fresco
170 O'Farrell Street, Macy's basement level
San Francisco, CA 94103
415 296.4349
Fiesta del Mar
1005 N. Shoreline Blvd
Mountain View CA 94043
650 965.9354
Primavera
Ferry Plaza Farmers Market (Embarcadero at Market)
San Francisco, CA
Lisa's Mexican Restaurant
6582 Mission Street (near John Daly Blvd)
Daly City, CA 94014
650 756.6289
Tacubaya
1788 4th Street
Berkeley, CA 94710
510 525.5160
Tacos Sinaloa / Mariscos Sinaloa
International Blvd & 22nd Avenue
Oakland, CA 94601
El Grullo
International Blvd & 26th Avenue
Oakland, CA 94601
Tacos Guadalajara
International Blvd & 44th Avenue
Oakland, CA 94601
Tacos El Novillo
1001 Fruitvale Avenue
Oakland, CA 94610
Green Chile Kitchen
601 Baker Street
San Francisco, CA 94117
415 614.9411
Tortas Los Picudos
2969 24th Street
San Francisco, CA 94110
415 824.4199
El Gran Taco Loco
3306 Mission Street
San Francisco, CA 94110
415 695.0621