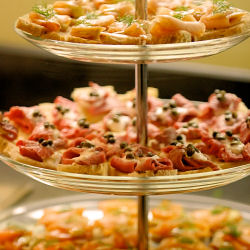 You'd be forgiven for thinking that locavore eating in the dead of winter means a limited palate of kale-green, potato-brown and cauliflower-beige. But, much to our very pleasant surprise, we've been cooking up a colorful assortment of oranges, pinks, purples… and even reds.
I've told you about two of the drinks at our cocktail soirée, but here's a little secret about the nibbles we served: Everything was at least 90% local, and most of it came from entirely within our 100-mile radius.
The prettiest plate of the night was Cameron's gorgeous tower of tiny Martha-inspired canapes: roast beef and horseradish on herb bread, and two different kinds of smoked salmon with mustard-fennel sauce on rye. An assorted platter of Fatted Calf pâtés and sausages took their place beside a trio of locally produced mustards. The crudite plate included too-cute-to-eat baby carrots, fractal-icious romanesco, and blushing breakfast radishes. A batch of pesto-filled pastry pinwheels, a spicy dip of Rancho Gordo black beans, and a platter of Northern California cheeses rounded out the savory stuff. On the sweet side, a batch of Earl Grey-scented tea cookies caused such a stir that three different guests asked for the (ridiculously easy) recipe.
Much as I adored the tea cookies, my favorite new party recipe isn't a recipe at all. We cut a big bagful of Happy Quail piquillo peppers in half — yes, we had local peppers in January! — removed the seeds, and stuffed them with a mixture of Fatted Calf chorizo and Acme breadcrumbs. A few minutes under the broiler and we had the most popular hors d'oeuvre of the evening. I can hardly wait until next season to try it again!
After a party like that, that last thing we wanted to do was cook. As the month wound down, we hit up some of our favorite restaurants to see what their midwinter menus had in store. Nopa served us yet another scrumptious supper courtesy of our local farmers: we split an order of goat cheese fondue, followed by a grass-fed burger for Cameron and grass-fed shortribs for me. A few days later we ended up with friends at The Alembic, where we shared local lamb sliders and a sinful order of truffled mac-and-cheese made with Mt. Tam and Serena — two of our favorite Northern California cheeses.
With Dark Days like these, it's hard to feel deprived.
Dark Days Ticker — January 16-30
- Dark Days dinners at home: 7 (out of 16), plus the party food
- Locavore dining-out: Alembic, Nopa, Range
- New recipes: Pesto pinwheels, chorizo-stuffed peppers, Earl Grey tea cookies
- Old faves: Mom's quiche Lorraine, Julia Child's beef stew
- Freezer fodder: Linguine Bolognese, chicken & dumplings
New (to us) local items
- Cap'n Mike's smoked salmon — red and white varieties
- Piper-Sonoma Brut and Blanc de Noirs sparkling wine
- Capellino pesto in a tub (made in SF!)
- Bellwether Farms' pecorino-style Pepato
- La Clarine Farm's Sierra Mountain goat Tomme
- Eatwell Farm's romanesco
- Happy Quail Farms piquillo peppers (last of the season!)
- Local mustards from Made in Napa Valley, Mendocino Mustard and Narsai's