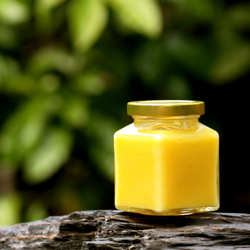 About 6 weeks ago, I dedicated my Black-Bottom Pie post — our entry in the "A Taste of Yellow" cancer-awareness event — to two special blog-friends:
…to our hostess Barbara, in her ongoing efforts to remain cancer-free, and to our friend Briana. Many of you know her blog, Figs with Bri, where she posted Wednesday about her recent setback: breast cancer has metastasized to her lungs. Since then, her site's gone dark and her email account is offline. We're keeping Bri and her husband Marc in our thoughts and prayers, and hoping for the very best.
Since then, there's been a lot of news.
The best news of all is that Briana's site — Figs with Bri — is back online. (The outage had nothing to do with her illness, although the timing certainly could have been better.) More good news: Barbara's LiveStrong Day event was so successful that she had to split the roundup into two parts!
Unfortunately, all the news wasn't so uniformly sunny. The results of the PET scan that Bri mentioned in her pre-crash post showed that her breast cancer had spread to her lungs, lymph nodes, and several areas in her bones. Classified as Stage IV cancer, Bri's prognosis is definitely challenging, but it's a challenge that she and her family are rallying to meet.
Some names you surely recognize — Bee and Jai of Jugalbandi, Shankari of Stream of Consciousness, Manisha of Indian Food Rocks and Garrett of Vanilla Garlic — have put their hearts and brains together to build a fundraiser page to help Bri's family defray the cost of her treatment. If you're touched by Bri's story, you can simply donate out of the goodness of your heart. Or — much like Menu For Hope — you can buy a raffle ticket for a chance to win some pretty fabulous prizes (which are in turn being donated by dozens of Bri's blogosphere pals).
To raise awareness of the fundraiser, this month's edition of Click!, the food-photography contest, is dedicated to Bri. And, just like Barbara's LiveStrong Day event, the theme is — appropriately enough — Yellow, the color of hope.
One of the very first posts I ever remember reading on Figs with Bri was Briana's luscious-looking Meyer lemon curd with an adorable smiling lemon-face on Marc's homemade label. A quick glance at the recipe left me stunned: How did I not know that making lemon curd was so simple? Why had I been forking out a small ransom for store-bought curd, when I literally had the best ingredients right in my own back yard? With both a lemon tree and a bergamot tree in our little orchard, this was a recipe I needed. You can bet I bookmarked it.
As luck would have it, our bergamot tree took its sweet time ripening this year, so by the time I was ready to make citrus curd, Bri's site was down. I ended up cobbling together a recipe from a few different sources, sad that I'd never printed out the post that I'd so admired before it disappeared. Checking back with Bri's page now — the one that made me drool, then laugh, then smack my forehead — I realize that my version's not so far from the inspirational source. When I spread it on a slice of freshly toasted Acme pain de mie in the morning, I'm reminded of the sunny day I made it, and of the strong-hearted woman who inspires me.
Fresh Citrus Curd


1/2 cup fresh citrus juice
2 tsp finely grated citrus zest
1/2 cup sugar
3 large eggs
6T unsalted butter, cut into 1/2-inch cubes
Whisk together juice, zest, sugar, and eggs in a medium-sized heavy saucepan. Add the butter and cook over medium-low heat, whisking frequently, until curd is thick enough to hold the marks of the whisk.
Carefully pour the curd into a sterilized jar and cool to room temperature (about 1 hour). Curd can be stored in the refrigerator for at least a week.