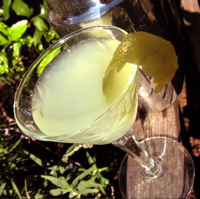 We're all down with eating seasonally here in the Bay Area. But how about drinking seasonally?
California growers coax most popular citrus fruits into year-round abundance, so it's easy to forget that these tart treats — especially many of the obscure varieties — are truly winter fruits. Specifically, sour oranges like Bergamots and Sevilles have a painfully short harvest each January or February, a fact that oddly endears them to many aficionados. This same scarcity has inspired countless generations of English cooks to put up marmalades, to extend this slice of winter sunshine as long as possible.
I'm so enamored of specialty citrus that we've planted a miniature grove in our tiny yard: A full size Meyer lemon, a dwarf Bergamot, and a shrub-size Makrut (kaffir) lime. The bergamots we harvested this week were zested for a micro-batch of bergamocello; I hope next year we'll have enough to make preserves or at least make a small batch of bergamot orangettes (would that be bergamettes?). But these same few fruits yielded just enough juice for a round of one of my favorite cocktails, dubbed the "Friday After Five" in honor of the eGullet thread that spawned it.
If you can't find Bergamots, feel free to substitute fresh grapefruit juice. It won't taste the same, of course, but then — like favas and peaches and sun-ripened tomatoes, in their turn — the drink's fleeting flavor is part of the charm. If you're anything like me, the haunting scent of Bergamot may even be enough to make you wish for winter in the summertime.
Friday After Five
1 ounce gin
1/2 ounce green Chartreuse
3/4 ounce bergamot juice
1 dash Herbsaint, absinthe or Pernod
Shake over ice, and pour into a chilled cocktail glass. Garnish with a bergamot twist, if desired.