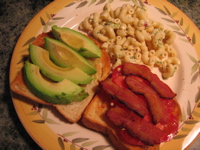 I don't talk about it much, but I'm rarely in the mood for breakfast foods in the morning. For years I tried to find pleasure in cultured boutique yoghurts, angelic buttermilk waffles, and steel-cut oats with berries… to no avail. Even my breakfast dream team — chilaquiles, corned-beef hash, eggs benedict, the sausages at Lola — leans to the savory side.
Finally, I just had to admit it: I'm not a breakfast gal. Now that I've made peace with this awkward reality, I'm much happier. In a pinch, I've been known to make a morning meal of dinner leftovers. But when time allows, I often eat what most people would consider lunch.
As I cleaned out the fridge last night, I noticed a couple of strips of bacon languishing all alone. I'd also bought a small bag of avocados at Trader Joe's, and then turned right around and bought three more at the farmer's market — oops. And I was making salsa this morning for tonight's dinner, so I had an excuse to hijack a slice of heirloom tomato. Add two slices of toasted Acme pain de mie, and you've got yourself a midsummer B-A-T sandwich, with a side of leftover mac salad. Perfect breakfast chow, no?
—
* Edited to add: We removed the link to the Cook's Illustrated macaroni salad recipe in July 2008 in protest of their bullying tactics.