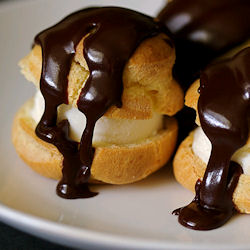 It's always an thrill to discover that one of your idols admires your work, and a huge honor for another blogger to trust you with their "baby". So you can imagine my elation — and perhaps even sense my panic? — when the lovely Tartelette asked me to guest-post over at her place this week.
I'm beyond flattered to be asked to contribute to Tartelette's incredible site, winner of Food Blog of the Year in the 2008 Well Fed Awards and — just this week! — placed at #43 on the Times Online list of the World's 50 Best Food Blogs.
After a lot of hemming and hawing about whether I had the chops to showcase my meager pastry skills on such a gorgeous site, I finally mustered enough courage. With some spirited inspiration from David Lebovitz's fabulous book, The Perfect Scoop, not to mention a healthy dose of chocolate, I think I managed to bluff my way through without too much embarrassment with a recipe for Profiteroles with Chartreuse Ice Cream.
Be sure to head on over to Tartelette's place to read the story, get the recipe, and enter for a chance to win a copy of The Baker's Odyssey by Greg Patent.