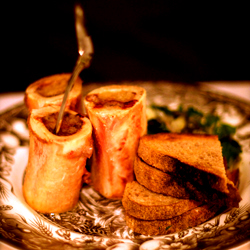 When a chef friend tells you that every dish she tasted at a new restaurant ran from "extraordinary to just great", you take note. When a second foodie friend exclaims that this same place offered "one of the most enjoyably pleasurable meals I have had in some time", you start to get excited. And when a big-paper critic fawns that this restaurant "has a soul, evident from head to tail," you move that place to the top of your must-try list. Restaurant Eloise, the new-ish Sebastopol venture of Ginevra Iverson and Eric Korsh — former sous-chefs at NYC's much-lauded Prune — clearly has a diverse and well-subscribed fan club.
With this much positive buzz, we were surprised to have our pick of tables, even for a same-day Saturday-night reservation. When we arrived, the dining room was nearly empty, but it glowed with the light of candles on each table, and we were warmly welcomed by the host and our waiters. I knew the setting would be pretty without being precious; Shuna's gorgeous photos told its story so well. We were charmed by Eloise's simplicity: Whitewashed walls adorned with mismatched gilt-framed mirrors and botanical prints, and a tiny bud-vase on each table filled with flowering herbs.
As we got settled, we were presented an amuse on a pretty toile-print plate: Crostini topped with a frothy mousse of a "trifecta" (said the waiter) of poultry livers, drizzled with olive oil and sprinkled with chives. I'm not terribly fond of liver, but if it tasted like this all the time, that would change.
Every starter on the menu was appealing; I settled on an order of fresh local spot prawns, a special offering. Cameron opted for the marrow bones, a dish he can never turn down. A trio of large prawns arrived, roasted and simply dressed with lemon and oil; one of the three was bursting with coral. Though perfectly fresh and firm-textured, the prawns were a little bland, and I wished I'd followed my initial urge to try the truffled mushroom toast instead.
The marrow bones were generous and tasty, although the quizzical and utterly awkward use of an upended teaspoon handle as serving implement caused some ill-disguised grumbling from the other side of the table. An accompanying St John-style parsley salad was a tad unorthodox — the kitchen flagrantly disregards Fergus Henderson's dictum regarding the sparing use of capers, but the end result was delicious.
Unfortunately, we didn't enjoy our main dishes nearly as well. The much-raved-about ricotta-and-chard gnocchi were as decadent as promised, swimming in a pool of sage brown butter. But they were so monotonously rich that I could barely manage more than three or four bites.
Cameron's veal chop was a good news/bad news story. The accompanying creamed spinach and sorrel was a delicious riff on the steakhouse classic, but the billed "crispy potato" turned out to be a ho-hum hash-brown. The chop itself — ordered medium-rare — came out with a glorious crust but a nearly raw center. Sent back to the kitchen, it returned a little closer to rare, still not as ordered, and messily propped back on the same plate with its now-cold sides. Maybe this quick fix would be OK at a neighborhood joint, but for a $32 entree at a white-tablecloth destination restaurant, it seemed ungracious.
And even though we'd specifically saved room, there was nothing on the dessert list to tempt us. The sweets seemed dropped onto the menu from a great height, with little thought to seasonality or diversity. After 7 days, I can only remember one of them: a baba au rhum.
All in all, Eloise seems like a place with promise, but a little unpolished… especially for a place where you can spend $13 for starters and $30 for mains without batting an eye. It's likely that the missteps we experienced were an anomaly, given the heaps of praise we've heard from others. And the service was lovely enough that we left feeling hopeful, rather than disgruntled. We hope Eloise finds her groove soon.
Restaurant Eloise
2295 Gravenstein Highway South
Sebastopol, CA 95472
707.823-6300