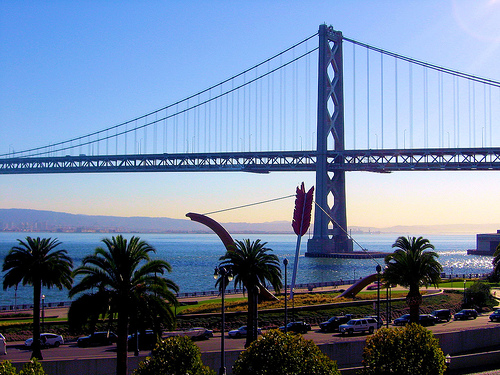 …to Married with Dinner?
Laura from (not so) Urban Hennery is visiting San Francisco this weekend, and we're the lucky ones who get to show her around! We've got a full schedule of foodie fun planned: Dinner at Range, a trip to the Ferry Plaza farmers market (of course!), even a stop at Mission Pie. And naturally we'll hit some of the tourist highlights: The view from the top of Twin Peaks, a stroll through some of our favorite neighborhoods, and a drive across the Golden Gate Bridge.
We've even managed to stir up some mighty fine weather. Probably not quite as gorgeous as the autumn day in the photo above — that was October of last year — but it is supposed to reach the high 70s over the weekend, which is sure to send poor Laura home to the cold, dark, and rainy Pacific Northwest shaking her head.
As fun as our adventures will be, the part I'm most looking forward to is Saturday night, when we're planning to cook dinner together with all the fun things we find at the market. We didn't plan it this way (or maybe Laura did, 'cause she's a organizer extraordinaire) but Saturday also happens to be the first day of this year's Dark Days Eat Local Challenge.
Just like last year, we'll make a point of searching out new local farmers and vendors — we'll try to do a better job of profiling them, rather than just a quick mention — and cook at least one meal each week from 100% from our 100-mile radius. We're going to pass on taking any exemptions other than salt and spices this time, since it's just one meal a week, and we've got a pretty good assortment of just about every other class of food.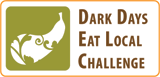 Our personal ground rules for the 2008/2009 Dark Days Eat Local Challenge:
We will continue to cook 90-95% local as often as we can, with a challenge baseline of one dinner per week made from 100% local ingredients.
We will write about new pantry items, new farmers we've discovered, and recipes for in-season items within our foodshed.
Local for us will be a 100-mile radius. Strong preference will be given to items purchased directly from farmers at market rather than retail. 
For our weekly challenge meal, we'll try to eliminate processed and prepared foods; We're making 'Marco Polo' exemptions only for salt and seasonings.
We'll continue with the challenge through March 15, 2009.