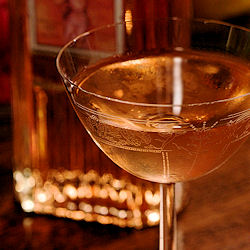 I know that it's been awfully quiet around these parts for a while, but whirlwind trips to New York City will severely cut into your blogging time. The lovely folks at NOTCOT and Liqurious sent me on a hybrid photography/writing assignment to cover the launch of Rosangel, a new hibiscus-infused tequila from Gran Centenario.
You can probably guess that I don't have a lot of personal affection for flavored spirits, but my better judgment prevailed: As freelance gigs go, getting to visit New York for a long weekend sure beats the hell out of just about anything else.
I fretted about how to make a rose-pink tequila sound credible to our cocktailian friends. But in all honesty, from what I was able to taste at the event, Rosangel has all the hallmarks of a quality product. It uses Gran Centenario reposado as its base, it's aged for an additional 2 months in port casks to give it complexity and a rosy glow, and then it's infused with hibiscus blossoms, not doctored with artificial flavors. I'm anxiously awaiting the chance to get my hands on a bottle to play with; the retail launch is set for March.
What I didn't know when I accepted the assignment was that one of the events would be held at Clover Club, the newish Brooklyn bar from Julie Reiner of Flatiron Lounge fame. And, better still, that I'd have a chance to watch Ms. Reiner and Paul Pacult lead a hands-on immersion training for eight tequila-loving bartenders flown in from all around the country. (I won't steal my own thunder any more than I already have: You'll have to check out the NOTCOT post for the full scoop.)
So anyway, apologies for the radio silence. At least you know I had a good excuse! I promise there's another post coming soon, all about the 70-pound pig we roasted for Cameron's big birthday.
(Oh man, I shot so many frames… picking just five representative photos for the filmstrip this time is impossible! Please click through to see the whole collection.)