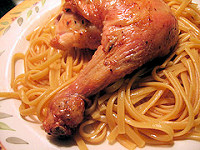 Ruth, Joe and Jeremy Hoffman
Hoffman Game Birds
Manteca, CA
January 5, 2007
Dear Hoffman clan,
I'm having a hard time putting into words how sad I am to read in the CUESA Newsletter that I will no longer be able to buy your birds on Saturdays at the Ferry Plaza Farmers Market. Your beautiful chickens have become one of our weekly staples, and we'd even started coming to the market earlier so as to avoid being disappointed by your "sold out" signs.
I hope you'll consider teaming up with a retail outlet in San Francisco; I don't know how often we'll be able get to Berkeley to visit Magnani's Poultry, but the thought of going without your birds is too much to contemplate.
I'm sure I'm not alone in my love of your poultry, but I also couldn't let the opportunity pass to let you know how much we appreciated what you're doing. I hope the attached post, about your chickens, sums it up adequately.
Sincerely, and sadly,
~ Anita