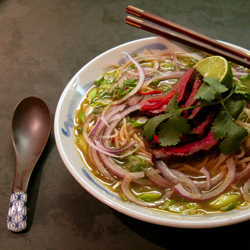 When Cameron and I started blogging a few years ago, we were talking to ourselves. After walking away from the food message boards that had been our online home, we found ourselves adrift. A pair of food-obsessed writers can't exist in a vacuum for long, so when our pal Sean suggested we should blog, it didn't take us long to see the wisdom of his plan. We set up an account, bought a domain, and started writing.
An interesting thing happened along the way: People — strangers who we didn't even know! — started reading the blog. Some of them even left us comments. And then we started visiting their blogs, leaving comments, and becoming intertwined with their lives. We celebrated their joys, cheered on their triumphs, cried at their losses, and consoled them in their grief… and they did the same for us. It's funny to say this about people who I've (mostly) never met in person, but I'm closer with some of my food-blog pals than I am with people I see every day. To an outsider, perhaps this sounds odd, even a little loney… but to me, it's one of the big blessings in my life, this circle of support and affection that literally crosses the oceans.
The most fabulous things happen in this little world of ours. Last week, I got an email from Bron, telling me that she and Ilva were planning a big surprise for our mutual friend Barbara, who's been struggling with the side-effects of chemotherapy. Would I help them send a virtual hug to Barbara this weekend, in the form of a recipe? Oh, absolutely!
To me, nothing says love and comfort better than a bowl of soup. I know that bowl full of beef and chile sounds far too spicy and rich for someone struggling with the nausea and unpleasantness of chemo, but in truth this dish is clean, light, and flavorful, with just a hint of sweet spice. The broth base is chicken, not beef, so the flavors of the sprouts and scallions come singing through. Ginger is known to help with nausea, and if you seed the Fresno chile — which is already mild — you're left with just the clean, fruity flavor and none of the heat. And because the meat is cooked separately and then used as a topping, you can adjust portions for varying appetites. Barbara doesn't enjoy the taste of cilantro, so we substituted a sprig of flat-leaf parsley for the garnish; it's mostly just for a splash of color, so feel free to leave it out entirely.
So here's a hug to Barbara, across the oceans and miles. I wish we could come by and bring you a bowl of soup in person, but for now we'll slurp a bowl of gingery noodles and keep you in our hearts.





Ginger Beef Ramen
- adapted from The Wagamama Cookbook
5 oz (150g) mung bean sprouts
9 oz (250g) ramen noodles
12 oz (350g) sirloin steak, 3/4-inch thick
teriyaki or soy sauce, for brushing
4 cups (1l) chicken stock
2T ginger, peeled and slivered, or more to taste
2T ramen sauce (recipe follows), plus more for serving
3 scallions, trimmed and sliced on the diagonal
1 red Fresno chile, trimmed, seeded, and sliced lengthwise
1/2 small red onion, sliced very thin
1 lime, quartered
parsley (or cilantro) sprigs for garnish
Rinse the steak and pat dry. Season with salt and brush with oil; let sit 30 minutes to come to room temperature.
Cook the noodles in a medium pot of boiling water until al dente, about 2 minutes. (I recommend cooking 1 minute less than the package indicates, as the hot soup will continue to cook the noodles later.) Drain and rinse with cold water until cool; drain well and set aside. In the same pot, heat the stock to a simmer; reduce heat to low and cover until ready to use.
Grill, broil, or pan-sear the steak until medium rare. Remove from the heat and immediately brush with teriyaki or soy sauce. Keep warm to rest for at least 5 minutes.
Add slivered ginger and 2T of ramen sauce to the stock, and heat to a rapid simmer; adjust for saltiness with soy sauce or fish sauce, as desired. Meanwhile, divide the noodles among two bowls, and slice the rested steak on the bias. Top the noodles with the beef, sprouts, scallions, chile slivers, onion. Garnish with herb sprigs and serve with lime wedges and additional sauce to add at the table.
Ramen Sauce
1 scant tsp sugar
1T malt vinegar
3T Asian sweet chile sauce (or to taste)
3T fish sauce
Dissolve the sugar in the vinegar, then combine with other ingredients.