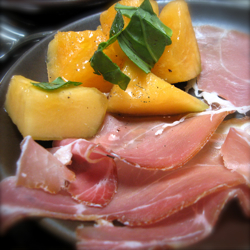 To say that we were not predisposed to appreciate SPQR would be a bit of an understatement.
We visited A16 — the original Cow Hollow venture from the same restaurateurs — a few months after its white-hot debut, and found nearly everything wanting. Which was probably just as well, because in those days getting a reservation was nearly as difficult as finding a parking spot in this notoriously fussy neighborhood.
So when its sibling SPQR opened up, a little more than a year ago, we rolled our eyes. When the rave reviews came rolling in, we reminded ourselves that the same hype followed A16 for ages; obviously, our tastes were not in line with those of the buzz-makers. And when we heard about their no-reservations policy, that was the final nail in the coffin. I couldn't imagine schlepping across town just to end up cooling my heels for what were rumored to be multi-hour waits. Nuh-uh, no thanks.
Fast forward to June. I'd left work early and caught the bus to a food event at Fort Mason. As soon as I walked in the door, I realized that there were three times as many guests as there were servings of food, and the claustrophobic crush was unpleasant. I called Cameron and told him not to bother parking, and we sat outside and pondered where to eat on this (to us) foreign side of the City.
"Well…" Cameron ventured tentatively, "There's SPQR."
"Oh please," I sneered. "The food's going to be terrible, and the line of smooth-haired people will be unbearable."
But really, we couldn't think of anywhere better, and we'd developed a serious appetite.
"Let's just head over that way, and if the line's too long, we'll regroup." (A wise man, this husband of mine.)
We went. We found Doris Day parking. There was no line, but also no open tables — just two seats at the end of the kitchen counter. We pounced.
The all-Italian wine list was a mystery to our California eyes, but with a little help from the staff we found our way to a couple of nice glasses. The decor was right up our alley, all creamy walls and dark-glazed woods and marble countertops, with soaring ceilings and wooden tables. The cooks joked with each other in their close, corral-like space under the watchful gaze of the chef expediting orders at the side of the bar.
I relaxed just a bit, still half-bracing myself for disappointment.
Antipasti — grouped into cold, hot, and fried sections — tempted us. Taking up half the menu, they're the heart of SPQR's offerings, and special pricing ($8 each but just $21 for three) encourages you to try a little of a lot. The simple perfection of fresh romano beans sizzled on the griddle with fried chile and breadcrumbs; golden-crisp bocconcini with fresh tomato sauce — a highbrow take on that middle-American favorite, fried mozzarella — and a plate of shaved La Quercia smoked proscuitto and cubes of fragrant melon. Sold!
I turned to Cameron and busted out laughing: "This is my new favorite restaurant!"
Down the other side of the menu we went, ordering what turned out to be far too much food. From the antipasti grande section — which are really entree-sized portions, minus the sides — we opted for saltimbocca with a garnish of piquant giardinara. A generous bowl of rigatoni Amatriciana followed, perfectly chewy tubes bathed in a funky (in a good way) porky tomato sauce. And as soon as we saw the grill guy press a softball-size hank of pork sausage onto the flat-top, we knew we had to have our own order.
Since that sunny summer evening, we've returned to SPQR many more times than we can count. We've sat at a table or two, and held up stools at the wine bar. But given our druthers, we'll always opt for those two end seats at the kitchen counter, right in the heart of the action.
The garnishes have changed with the seasons — corn salad changing to braised fennel, or briny olives swapped for canteloupe — but heart of most dishes persists. As fall rolls in, we're loving the fried brussels sprouts — especially with their new, more-tart dressing — though they can be overdone and greasy now and then. The tuna conserva salad with garbanzos I would happily eat all on its own for lunch, perhaps with a slice of crusty bread. A rotating choice of griddled mushrooms is paired with enchanting grace notes. (Last night, it was chanterelles with tiny pieces of pancetta and a handful of spinach… swoon!) There's an every-Tuesday special of a local fried chicken, and some eye-popping seasonal additions.
This week's newest option was the most over-the-top of all: A triple-pork sandwich made of bacon and ham, draped over a breaded-and-fried patty of pigs trotters, served on a chicken-liver-mustard-smeared potato bun. "The kitchen calls it the Widowmaker" our waiter laughed, as she found us yet another stunning wine pairing. Like all of the restaurant's genuinely warm (and mostly female) front-of-the-house team, she somehow made us feel like her favorite customers while dealing with eight different, difficult tasks.
Oh, and that no-reservations policy? With the exception of one last-minute visit we made late in the evening, we've never had to wait. I don't know if it's the economy, our timing, or just the natural ebb and flow of restaurant trendiness, but we count ourselves lucky to be able to call SPQR one of our new old standbys.
SPQR
1911 Fillmore Street
San Francisco, CA 94115
415.771.7779